Nakon nekoliko odgoda, Bandai Namcov ambiciozni RPG Tales of Arise u prodaji bi se trebao pojaviti početkom rujna, a osim na već ranije najavljenim PS4, Xbox One i PC platformama, stići će i na PS5 i Xbox Series X/S.
Bandai Namco je službeno potvrdio kako će Tales of Arise izaći 10. rujna (dan ranije u Japanu). Već sada je moguće napraviti prednarudžbu fizičkog i digitalnog izdanja na svim platformama, a svi koji to učine, na poklon će dobiti novi kostim za Alphena i Schionne, nove customizacijske dodatke te nove recepte i sastojke za kuhanje.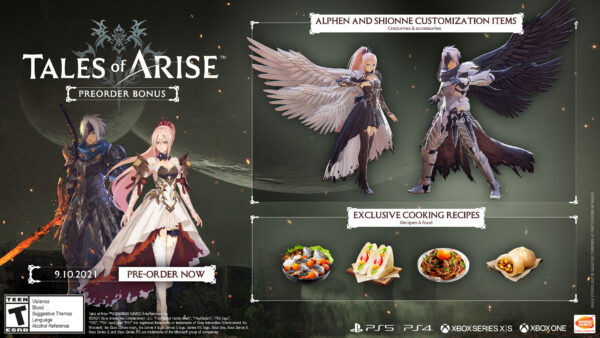 U ponudi će biti i nekoliko izdanja igre. Za one koji preferiraju "digitalu", tu su Digital Deluxe Edition i Digital Ultimate Edition.
Digital Deluxe Edition se sastoji od same igre i u kojem se osim igre nalazi još i:
Premium Item Pack (zlato, itemi za kuhanje i boosteri)
Premium Costume Pack (osam kostima i šest customizacijskih dodataka)
Premium Travel Pack (bolje sposobnosti za kuhanje i crafting te popusti u shopovima)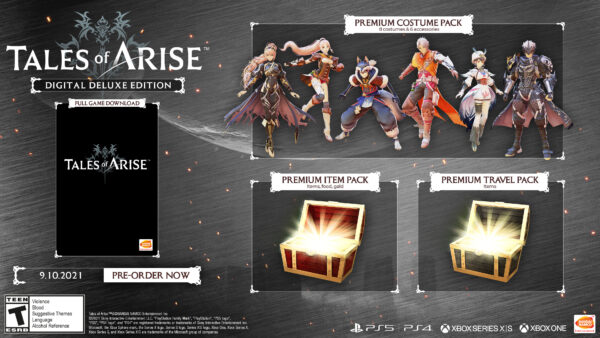 Uz sav navedeni sadržaj iz Digital Deluxe Editiona, Digital Ultimate Edition dolazi još i sa dodatnim kostimima za igrive likove i specijalnim kostimima inspiriranim drugim Bandai Namcovim franšizama.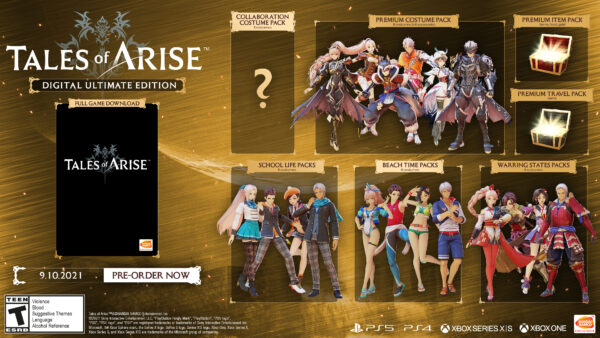 Za kolekcionare, tu je još i Tales of Arise Collector's Edition, koji je dostupan ekskluzivno putem Bandai Namcovog online storea. Sastoji se od standardnog izdanja igre i nekolicine fizičkih goodiesa, kao što su:
Ekskluzivna, 18 cm visoka figurica Alphena i Schionne
Steelbook pakiranje
Hardcover art book na 64 stranice
CD soundtrack.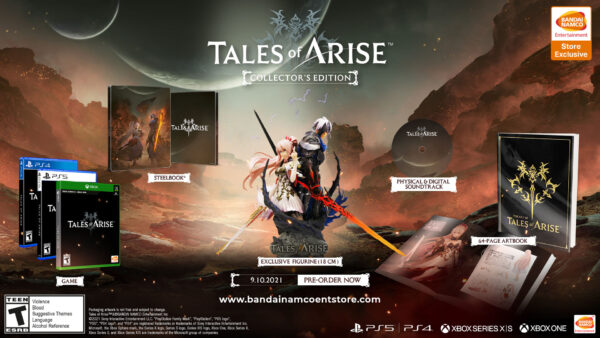 Uz sve navedeno, dočekao nas je i novi trailer, pa bacite pogled ispod.