Nećemo pogriješiti ukoliko kažemo da je Bethesdin Wolfenstein II: The New Colossus definitivno jedno od najugodnijih iznenađenja ovogodišnjeg E3 sajma. Premijerna najava igre, iako smo je zahvaljujući brojnim leakovima i očekivali, oduševila je mnoge, a činjenica da igra u prodaju stiže već ove jeseni, samo je dodatno podgrijala atmosferu. U mjesecima koji su pred nama, vjerujemo kako ćemo još mnogo čuti o Wolfenstein II: The New Colossusu, a već sinoć pristigle su nam nove informacije o igri koje se tiču posebnog kolekcionarskog izdanja igre.
Naime, Bethesda i MachineGames predstavili su Wolfenstein II: The New Colossus Collector's Edition, posebno limitirano kolekcionarsko izdanje koje će koštati $99.99, a u kojem će se između ostalog naći i 12″ akcijska figurica BJ Blazkowicza inspirirana igračkama iz 60-ih godina, koju ćemo moći opremiti s čak šest različitih tipova oružja iz igre uključujući i sjekiru. Figurica je zapakirana u premium Elite Hans retro pakiranje također inspirirano 60-im godinama, a uz isto u ovom izdanju očekuje nas i ekskluzivno limitirano metalno pakiranje za igru te ekskluzivni Blitzmensch poster dimenzija 9″X14″, a kako sve to izgleda, možete vidjeti na slici ispod.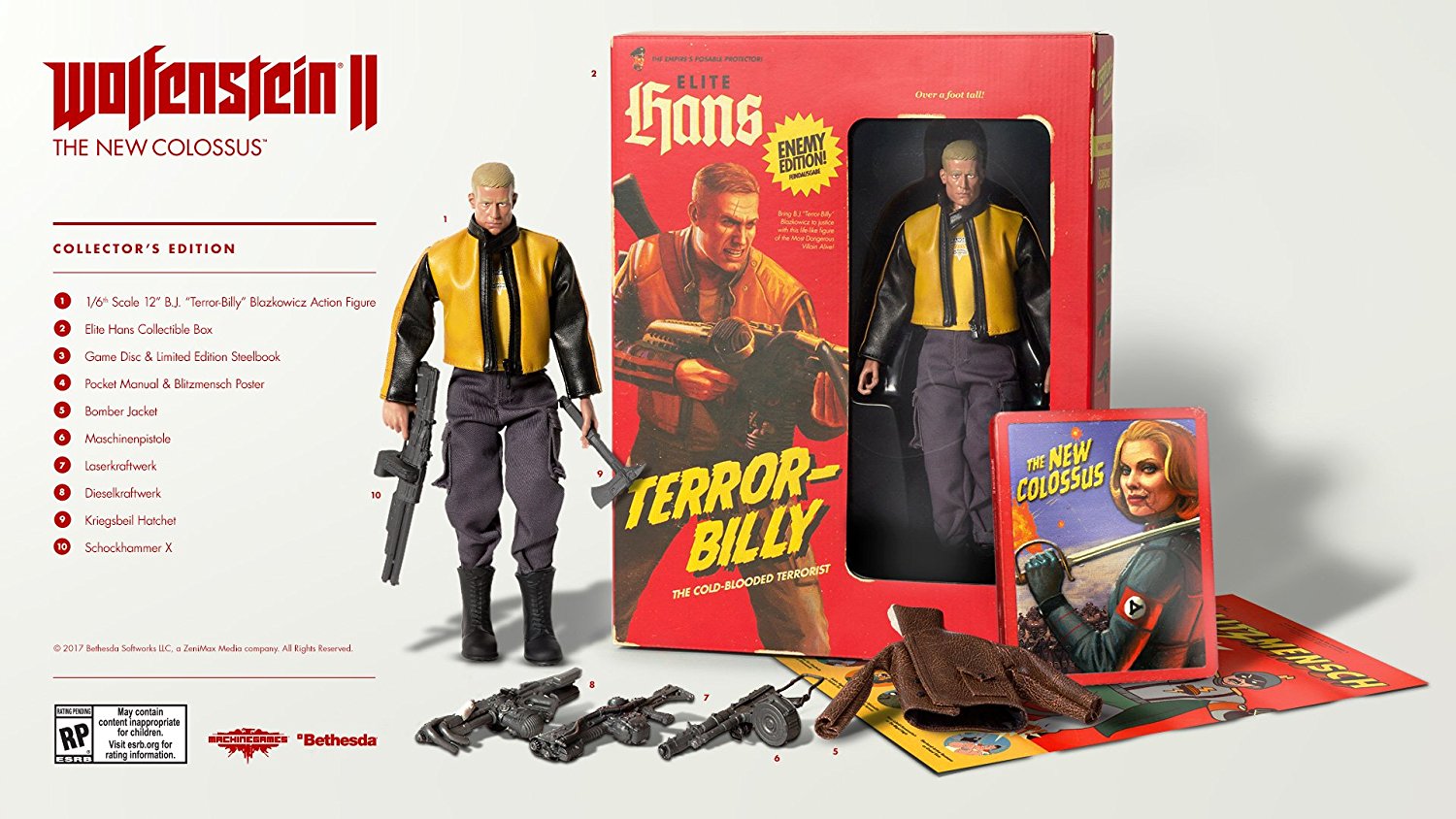 Wolfenstein II: The New Colossus izlazi 27. listopada, a bit će dostupan u verzijama za PS4, Xbox One i PC.