Ubisoft je objavio novi trailer posvećen nadolazećoj The Division 2 beti, a iz istog doznajemo što nas sve očekuje tijekom ovog zatvorenog događaja koji će se održati u periodu od 7. do 10. veljače.
Prije svega, doznali smo da ćemo tijekom beta testiranja biti limitirani na jednog igrivog lika kojeg nećemo moći izbrisati (ali ćemo imati priličnu količinu customizacijskih opcija), a razvoj lika tijekom bete bit će ograničen na lvl 7.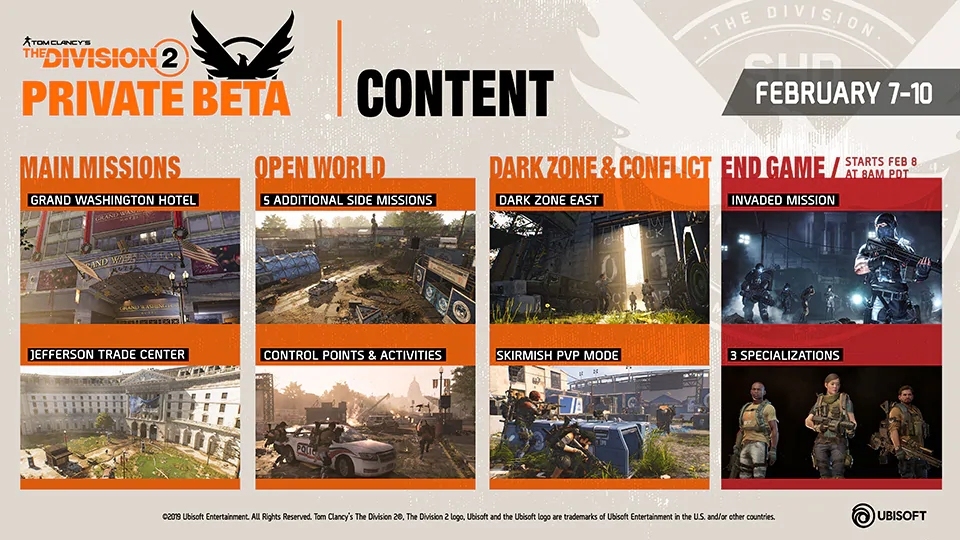 Igrače tijekom bete očekuju dvije glavne misije, jedna smještena u Jefferson Trade Center i druga u Grand Washington Hotelu, a tu je i nekoliko sporednih misija koje će biti dostupne onima koji se odvaže istražiti igru van njene glavne priče. Konkretno, sporedne misije nalaze se na sljedećim lokacijama:
Empire Autumn Hotel
MLK Library Hostages
National Archives
Mustang Court Rescue
Bureau Headquarters.
Beta će također sadržavati i nekoliko različitih zona:
The White House—also serving as your Base of Operations in D.C.
Downtown East
The Federal Triangle
The Smithsonian
Final Epiphany
The 1040
Dark Zone East (najveća od svih triju Dark Zona).
Beta neće biti vezana Non Discoslure Agreementom (NDA), tako da će svi igrači moći dijeliti svoja iskustva tijekom igranja, a kada nas po očekuje preload, početak i kraj bete možete vidjeti na slici ispod.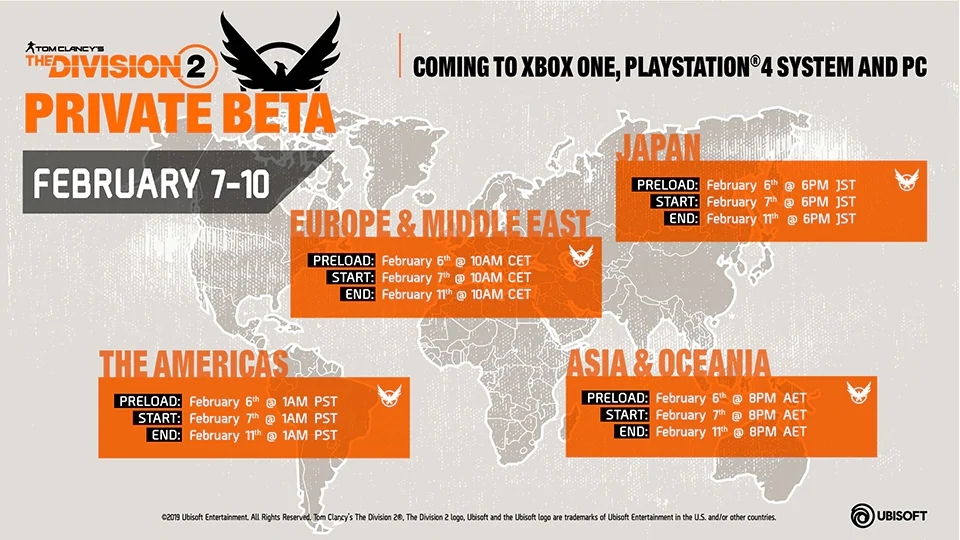 The Division 2 izlazi 15. ožujka, a bit će dostupan u verzijama za PS4, Xbox One i PC.