Besplatni travanjski DLC za 3DS ekskluzivu Monster Hunter 4 Ultimate donio nam je nekoliko zaista simpatičnih dodataka – prije svega, jednog od vaših mačjih prijatelja sada  možemo  odjenuti u Sonica the Hedgehoga.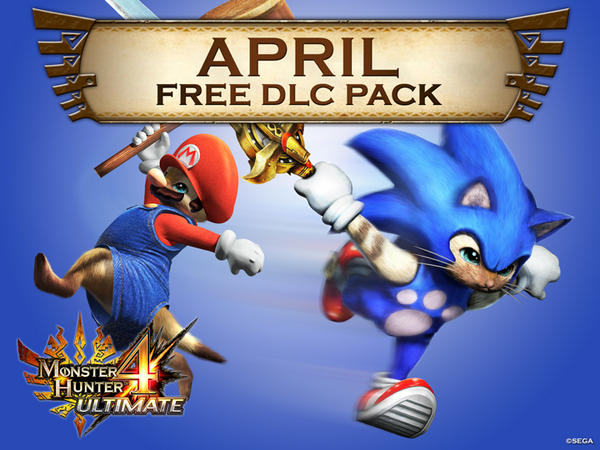 Capcom će i dalje izdavati besplatne DLC-ove za Monster Hunter 4 Ultimate. Isti će biti dostupni svakog prvog petka u mjesecu, a travanjski DLC sadrži sljedeći sadržaj:
14 New quests
2 New weapons
3 Complete armor sets
4 Palico weapons
7 Palico armor sets
1 Bonus Palico: Blue Pal
4 Guild Card backgrounds
2 Guild Card poses
13 Guild Card titles
1 Poogie outfit: Vagaboar.
Da biste pristupili novom sadržaju, potrebno je da u glavnom izborniku izaberete "DLC", taj sadržaj downloadujete te potom odaberete Event Quests i Challenge Quests u Gathering Hallu, a to je moguće učiniti razgovorom s Questatrixom i Arena Bambinom.