2K Games i Humble Bundle spremili su novi slatki paket za PlayStation igrače, omogućivši im da u sklopu Humble 2K PlayStation Bundlea za samo nekoliko dolara kupe  priličan broj 2K hitova dostupnih za PS3, PS4 i PS Vita konzole.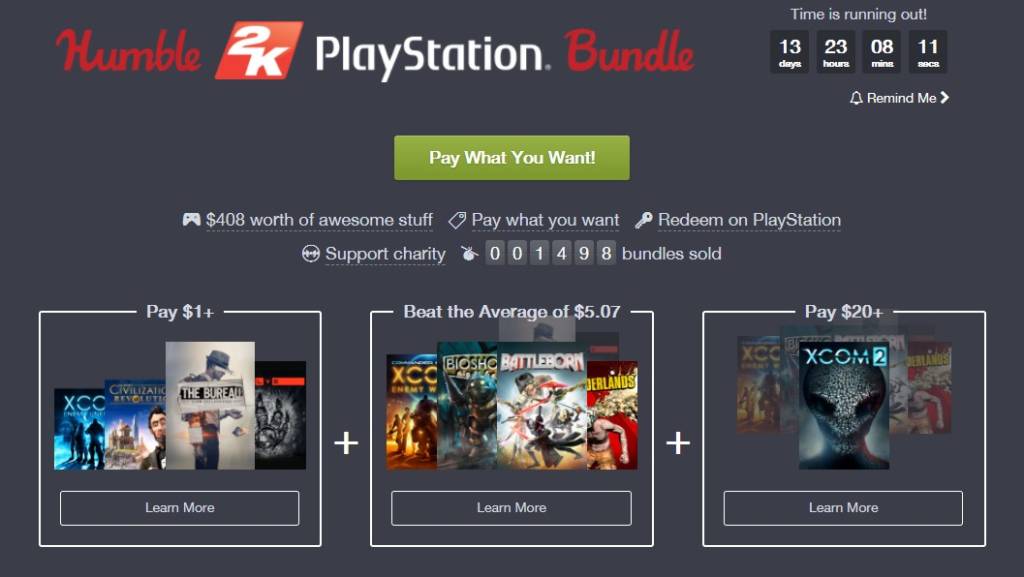 Naime, za samo $1 očekuje vas paket s četiri 2K naslova: XCOM: Enemy Unknown Plus (PS Vita), Civilization Revolution 2 Plus (PS Vita), The Bureau: XCOM Declassified sa svim DLC-vima (PS3) i Evolve (PS4). Platite li više od trenutnog prosjeka (koji u trenutku pisanja članka iznosi $5.93), dobit ćete još sedam sjajnih naslova: XCOM: Enemy Within (PS3), BioShock (PS3), Battleborn (PS4), Borderlands (PS3), Borderlands 2: Ultimate Edition (PS3), Mafia II (PS3) i Spec Ops: The Line (PS3), a odlučite li se za kupovinu najskupljeg paketa i izdvojite li $20, očekuje vas još i XCOM (PS4) te 10% popusta, ukoliko ste novih pretplatnik na Humble Bundle Monthly servis.
Novac od kupovine nekog umble 2K PlayStation Bundle paketa ovaj put ide humanitarnoj udruzi Covenant House, a Humble 2K PlayStation Bundle će biti dostupan za kupovinu do 29. kolovoza.