UPDATE: Od lipnja Sony mijenja politiku vezanu za PlayStation Plus Instant Game Collection. Naime, već od 4. lipnja Sony će izdavati po dvije igre za svaku od svojih platformi. Tako će uz sve navedene igre, ovoga mjeseca na PS4 stići Trine 2: The Complete Story.
Lipanjska kolekcija besplatnih PlayStation Plus igara donijet će nekoliko zanimljivih naslova.
Europski PlayStation plus korisnici će ovaj mjesec dobiti priliku besplatno skinuti NBA 2k14 i indie horror Lone Survivor (PS3), sjajni akcijski RPG Dragon's Crown za Vitu, odnosno Pixeljunk Shooter Ultimate za PS4.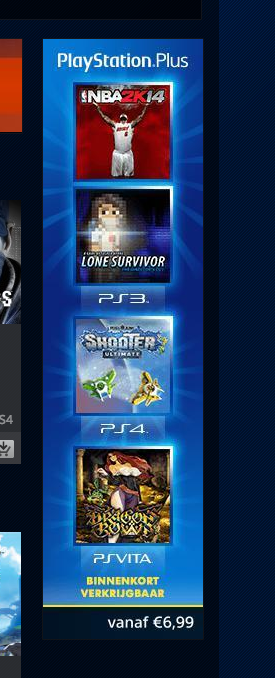 Još nekoliko dana moguće je skinuti Payday 2 i Puppeteer (PS3), Muramasa Rebirth i Everybody's Golf (PS Vita) i komičnu PS4 avanturu Stick it to the Man.
PlayStation Plus Instant Game Collection pokazao se kao sjajan potez za Sony i Sonyjeve konzole. Koliko je PlayStation Plus usluga postala popularna, svjedoči nedavna objava Sonyjevih čelnika da više od polovice PS4 vlasnika ima PlayStation Plus pretplatu.