Bethesda je objavila datume izlaska preostalih triju DLC epizoda Wolfenstein II: The New Colossusa, koje ulaze u sastav Season Passa za igru koji nosi naziv The Freedom Chronicles, koji je dostupan po cijeni od £17.99.
Naime, kao što smo ranije i pisali, svaka od epizoda omogućit će nam da borbu protiv nacističke okupacije Amerike proživimo iz perspektive različitih pripadnika pokreta otpora, počevši od istraživanja ruševnog Chicaga pa čak i svemira u ulozi profesionalnog quarterbacka Josepha Stalliona, preko infiltriranja nacističkih bunkera u Californiji u ulozi bivše OSS agentice i ubojice Jessice Valiant, pa sve do herojske mislije kapetana Geralnda Wilkinsa, kojeg će borba protiv nacista odvesti sve do Aljaske, gdje će morati spriječiti ozloglašenu Operaciju "Crno Sunce".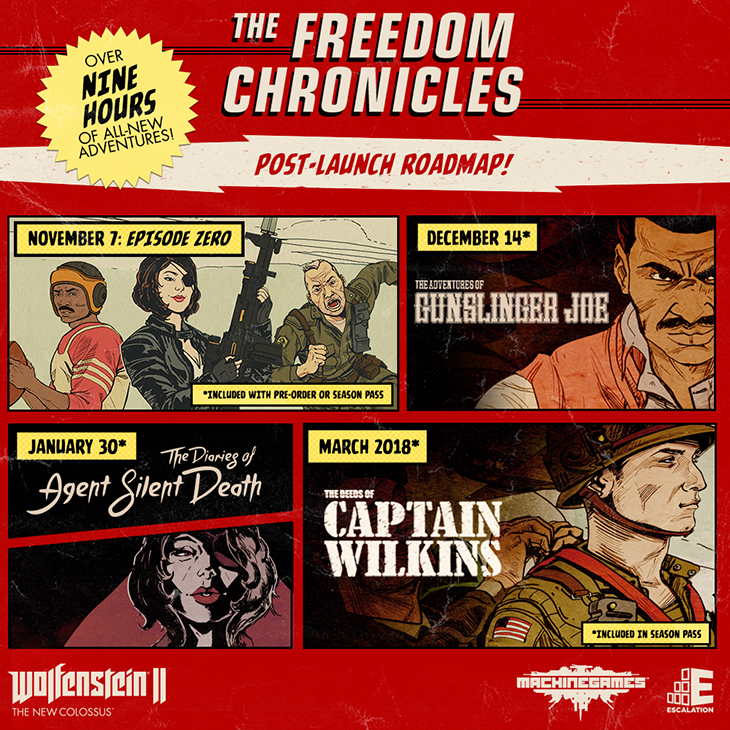 Nulta, uvodna epizoda The Freedom Chroniclesa, Episode Zero, već je vani i odlično će poslužiti da nas upozna s gorenavedenim herojima, dok ostale tri očekujemo tijekom idućih pola godine. Prva epizoda, The Adventures of Gunslinger Joe, očekuje nas već 14. prosinca, a potom će 30. siječnja uslijediti i druga, The Diaries of Agent Silent Death. Treća i ujedno i posljednja epizoda, The Deeds of Captain Wilkins, trebala bi izaći nekad tijekom ožujka iduće godine, no točan datum njenog izlaska još uvijek nije poznat.
Wolfenstein II: The New Colossus je trenutno dostupan na PS4, Xbox One i PC platformama, a vrlo brzo očekuje vas i naša recenzija koja je u pripremi.