Osim što je zarobio srca brojnih fanova serijala, RPG hit Tales of Arise je uspio da ostvari i impresivan komercijalni uspjeh.
Bandai Namco je službeno potvdio da je Tales of Arise uspio da se proda u preko dva milijuna primjeraka, što je za pola milijuna više u usporedbi sa prodajnim rezultatima od prije šest mjeseci.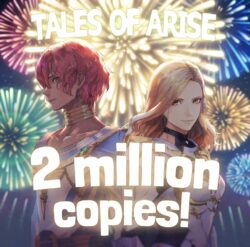 Tales of Arise trenutno možete zaigrati na PS4, PS5, Xbox One, Xbox Series X/S i PC platformama.