Posjeti City Center One East Zagreb u petak, 3. studenog 2017. od 09 do 21 sati i ugrabi novi, senzacionalni Call of Duty World War II i dopusti da te razveselimo super poklonima!
Povodom izlaska igre Call of Duty: World War II, Sancta Domenica d.o.o., ovlašteni distributer izdavača Activision Blizzard u Republici Hrvatskoj u petak 3. studenog 2017. organizira Day 1 Launch Event u City Center One East (Žitnjak). Za sve kupce CODWWII igre u poslovnici Sancta Domenica CCOEast na D1 osigurali smo super poklone.
Za sve kupce Call of Duty WWII u Sancta Domenica poslovnici CCO East na Day 1 osigurali smo ekskluzivne poklone. Samo najbržih 100 zgrabit će svoj poklon.

A u prizemlju smo organizirali i Free play zonu gdje možete isprobati CODWWII na PlayStation 4 Pro konzolama. Free play zona nalazi se od 03. do 05.11.2017 u prizemlju CCOEast-a.

Dođi rano, stani u red i ugrabi među prvima svoj Call of Duty WWII i super poklone!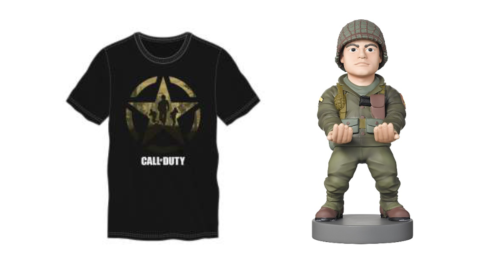 NAPOMENA: Akcijska ponuda vrijedi samo za kupce igre Call of Duty: World War II, u Sancta Domenici City Center One East od 09 do 21 h 03.11.2017.