Nakon što smo konačno dočekali najavu Call of Duty: Modern Warfarea, vrijeme je da doznamo nešto više i o njegovim posebnim izdanjima, koja će biti dostupna u prodaji.
Na Activisionovoj službenoj stranici pojavili su se detalji o nekoliko specijalnih izdanja igre, fizičkih i digitalnih.
Kada je u pitanju digitalna verzija igre, očekuju nas njena tri različita izdanja – standaradno, Operator i Operator Enhanced izdanje.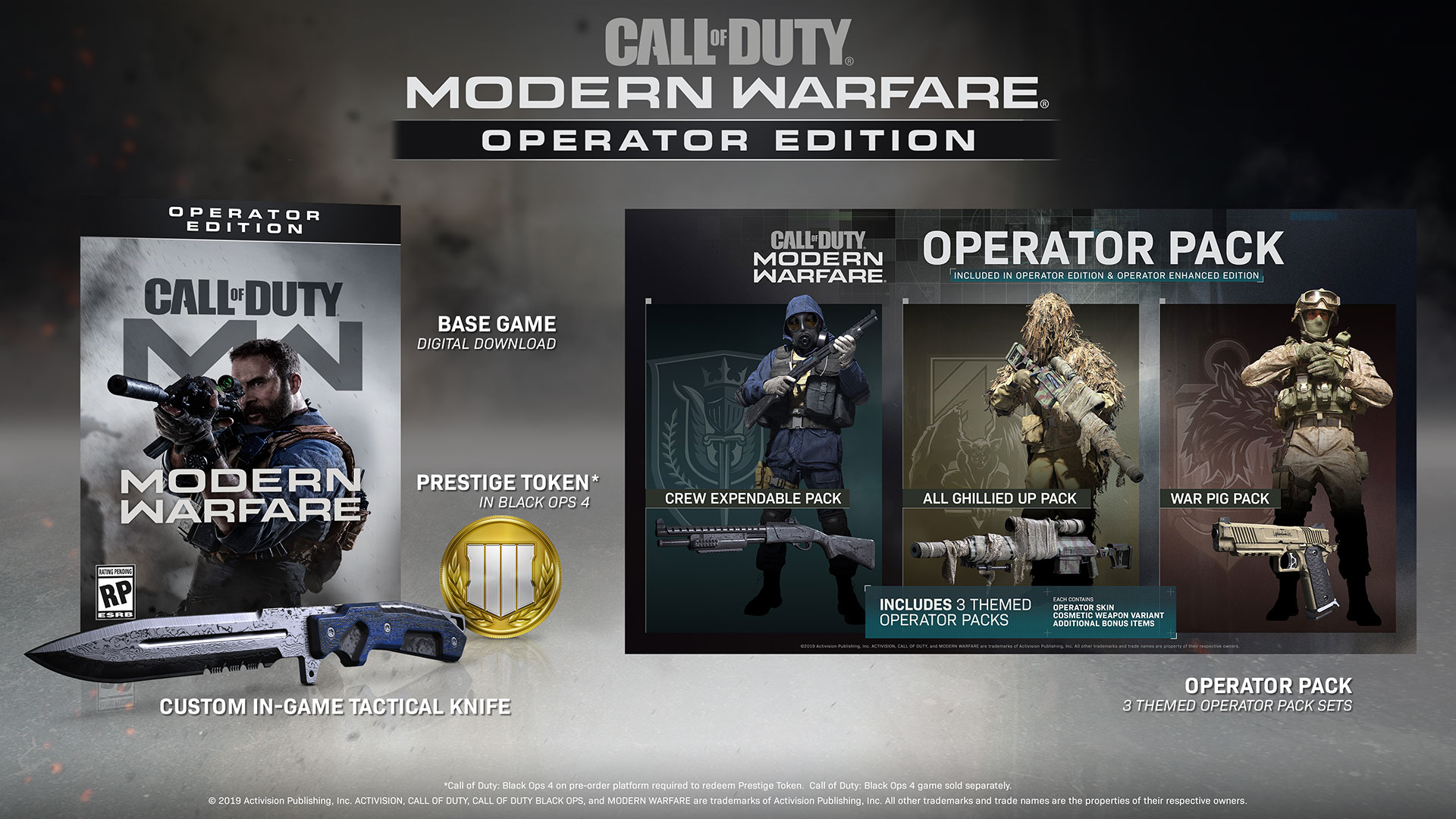 Za razliku od standardnog izdanja, oba Operator izdanja dolaze s tri Operator Packa u kojima se nalaze skinovi i kozmetika za oružje iz originalne Call of Duty 4: Modern Warfare igre. Oba ova izdanja imat će i custom in-game taktički nož, a svi koji naprave prednarudžbu bilo kojeg digitalnog izdanja, dobit će i Prestige Token koji je moguće iskoristiti u još uvijek aktualnom Call of Duty: Black Opsu 4. Također, svi koji odaberu Operator Enhanced Edition, dobit će i 3,000 Call of Duty pointsa.
Kada su u pitanju fizička izdanja Call of Duty: Modern Warfarea, osim standardnog izdanja, igračima će na raspolaganju biti i Precision Edition. Ovo izdanje bit će dostupno samo kod pojedinih retailera (za sada je potvrđen samo GameStop) i to po cijeni od $99, a u njemu će se naći:
Primjerak Call of Duty: Modern Warfare igre
Steelbook pakiranje
KontrolFreek Modern Warfare brendirani Performance Thumbstickovi
KontrolFreek Modern Warfare brendirani Controller Skin
Custom in-game taktički nož
"All Ghillied Up" Operator Pack
"Crew Expendable" Operator Pack
"War Pig" Operator Pack
C.O.D.E. Animated Calling Card.
Call of Duty: Modern Warfare na PS4, Xbox One i PC stiže 25. listopada.