Tijekom jučerašnje Nintendo Direct konferencije Satoru Iwata je najavio skorašnji dolazak novih Seginih Game Gear naslova na 3DS virtualnu konzolu. Njihov popis vam donosimo u cijelosti.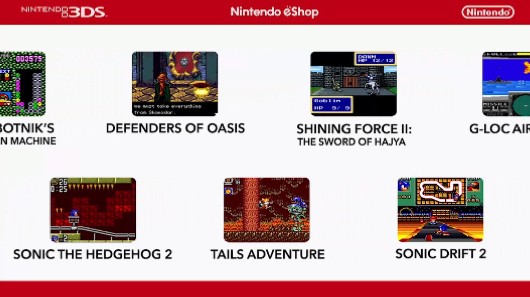 Columns
Crystal Warriors
Defenders of Oasis
Dr. Robotnik's Mean Bean Machine
G-LOC: Air Battles
Shining Force II: The Sword of Hajya
Sonic Blast
Sonic Drift 2
Sonic Labyrinth
Sonic the Hedgehog
Sonic the Hedgehog 2
Tails Adventure
Vampire: Master of Darkness
Kao što je moguće vidjeti na popisu najviše ima Sonic naslova, a JRPG fanove posebno će razveseliti skorašnji izlazak Defender of Oasisa, Shining Forcea II i Crystal Warriorsa.