Prvi DLC za prilično iznenađujući Call of Duty: Advanced Warfare svoju premijeru dočekat će krajam ovog mjeseca.
Havoc, kako glasi naziv prvog od četiri planirana DLC-a, od 27. siječnja bit će dostupan ekskluzivno na Xbox One i Xbox 360 konzolama (kao i svi budući COD: AW DLC-ovi, i ovaj je privremena Xbox ekskluziva), dok se njegovo pojavljivanje na PC i PlayStation (PS3 i PS4) platformama očekuje tokom veljače.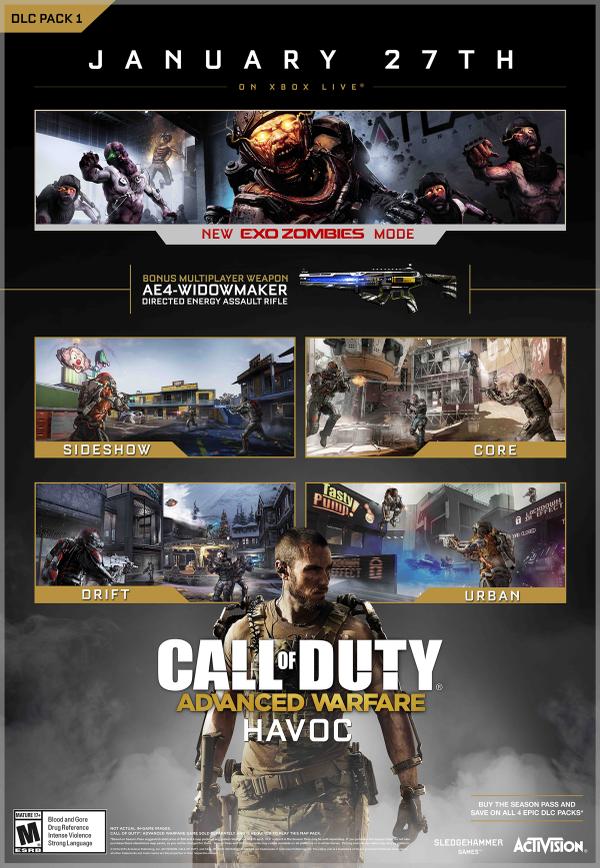 Havoc DLC će se sastojati od četiri nove multiplayer mape (Sideshow, Core, Drift i Urban), ekskluzivne AE4-Widowmaker puške i novog Exo Zombies moda.
Individualna cijena Havoc DLC-a još nije poznata, no svi vlasnici Call of Duty: Advanced Warfare Season Passa isti će dobiti potpuno besplatno, baš kao i tri preostala velika DLC-a (Ascendance, Supremacy i Reckoning) te rani pristup DLC oružju. Više detalja možemo očekivati u narednim danima.