Iako je već neko vrijeme poznato da Redacted Studios radi na igri Afro Samurai 2: Revenge of Kuma, nastavku hip-hop samurajske avanture iz 2009. godine, sve smo bliže njezinom službenom otkrivanju.
Prema još nepotvrđenim informacijama, službeno predstavljanje igre moglo bi se dogoditi već na ovogodišnjem GDC-u, koji se trenutno održava u San Franciscu.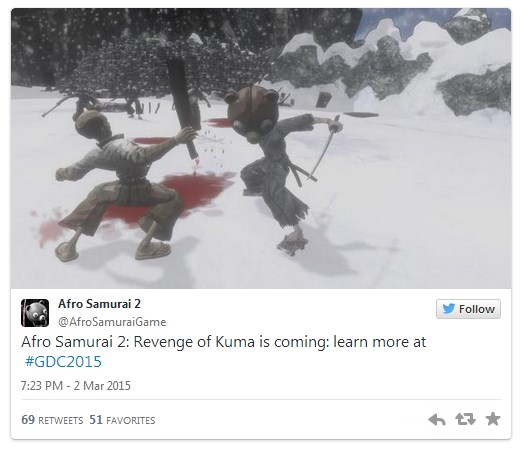 Nastavak igre također će biti zasnovan na Afro Samurai manga i anime franšizi, imat će nove igrive likove i co-op mod. Sama priča igre vrtit će se oko misterioznog lika Kume, kojeg smo mogli upoznati u prvoj igri te animiranom serijalu.
Neki konkretniji detalji o igri za sada nisu poznati, kao ni platforme na kojima će se ista pojaviti, no velika je šansa da će Afro Samurai 2: Revenge of Kuma biti dostupan na gotovo svim raspoloživim platformama.