Rockstar je objavio detaljan novog tjednog GTA eventa, koji počinje danas.
Combat Week, kako je Rockstar nazvao ovaj novi event, počinje danas i trajat će sve do 19. svibnja, a tijekom tog perioda obuhvatit će brojne popuste na tešku artiljeriju i vozila kod Warstocka, dok će municija i druge usluge standardno biti na rasprodaji kod Ammu-nationa i Merryweathera.
Naravno, uz sve to GTA Online igrači moći će igranjem novog In and Out moda (koji sada sadrži tri nove mape – Grand Senora Desert, Los Santos International Airport i Dignity Village) ugrabiti dvostruke GTA$ i RP.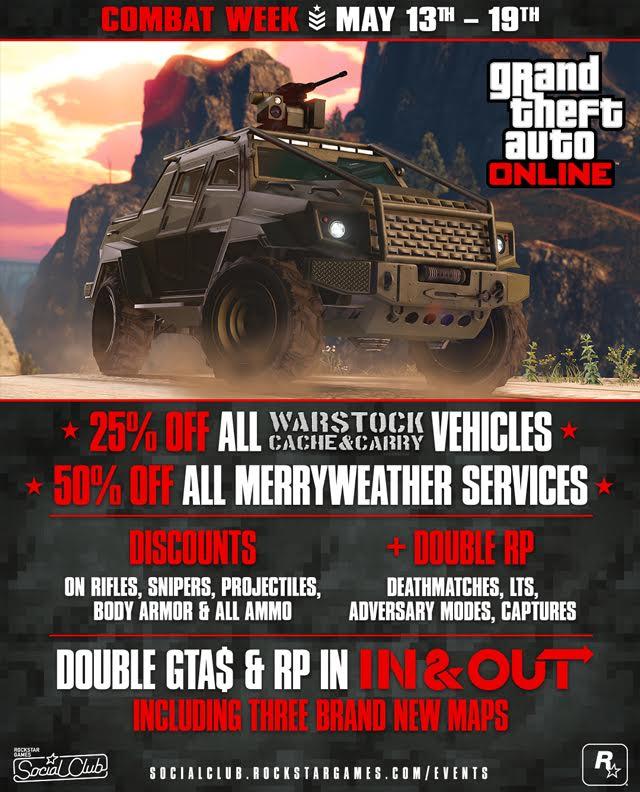 Rockstar je objavio i kompletan program ovotjednog GTA Online eventa, pa pogledajmo zajedno kada nas i što očekuje:
13. – 15. svibanj – tri nove In and Out mape
16. – 17. svibanj – Cross The Line I, Come Out to Play V i Till Death Do Us Part II adversary modovi
18. – 19. svibanj – Extraction V, Beast vs Slasher IV i Siege Mentality I modovi.
Popusti koji nas ovaj tjedan očekuju su sljedeći:
Ammu-Nation Sale:
Sve puške – 25% sniženja
Svi snajperi – 25% sniženja
Svi projektili – 25% sniženja
Sva municija – 25% sniženja
Oklopi za tijelo– 50% sniženja
Warstock Vehicle Sale:
25% sniženja na sva vozila uključujući i Turreted Limo, Buckingham Valkyrie i Rhino vozila
Merryweather Sale:
50% sniženja na sve usluge Merryweathera, uključujući dostave i preuzimanja s mora i zraka, podršku helikoptera, zračne napade i slično.