Rockstar je najavio novi multiplayer mod za GTA online, a zajedno s istim za ovaj vikend, pa i nešto kasnije, očekuju nas i dodatna iznenađenja.
Naime, novi Adversary mod za GTA Online nosi naziv "In and Out" i bit će dostupan od 3. svibnja. Ovaj mod opisan je kao intenziva verzija Capture moda, u kojem će jedan tim (napadači) pokušati ukrasti osam paketa, dok će ih drugi tim u tome morati spriječiti.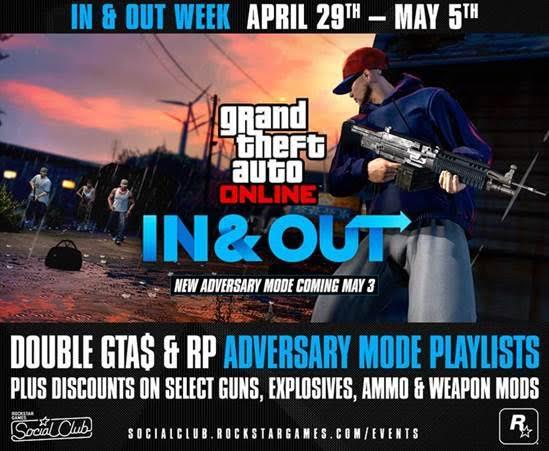 Također, u skopu promocije novog Adversary moda, Rockstar je spremio i posebni "In and Out Week" događaj, koji će trajati od 29. travnja do 5. svibnja, a tijekom kojeg će igrači sudjelovanjem u brojnim modovima (navedeni su modovi kaoš to su Hunting Pack ili Hasta La Vista) moći zaraditi dvostruke GTA$ i RP poene.
Donosimo vam kompletan pregled aktivnosti:
29. – 30. travanj – Adversary Mode Playlist 1 (Hunting Pack, Relay & Offense Defense)
1. – 2. svibanj – Adversary Mode Playlist 2 (Hasta La Vista, Every Bullet Counts & Keep the Pace)
3. – 5. svibanj – In and Out Playlist (sastoji se od tri In and Out mape).
Uz sve ovo, tijekom ovog promotivnog perioda u Ammu Nation storeu pronaći ćete brojne popuste na oružje,
eksplozive i druge destruktivne potrepštine, a što se nalazi na "rasprodaji" pogledaje ispod:
Grenades – 20% off
Sticky Bombs – 20% off
Assault Rifle Mods – 25% off
Combat MG – 25% off
SMG Ammo – 50% off.