The academic sphere and video games have been closer than ever. With various scholars focusing more and more on video games, we are witnessing a plethora of new interesting books and analyses that go beyond graphical and mechanical aspects of gaming titles, and connect their stories, narratives, and topics with broader social and cultural aspects in which many of us live in. One of the scholars who caught our eye is Amy M. Green, Assistant Professor from the University of Nevada, Las Vegas.
As stated in her biography, Amy M. Green received her Ph.D. in literature from UNLV in 2009. She specialized in Shakespeare and 19th century American literature. Today, her work has evolved and she focuses her research on the exciting and evolving field of digital narrative study. She is especially interested in the expanding presence of video games as a compelling source of narrative, one that is necessarily participatory by nature.
She is the author of three books, Storytelling in Video Games: The Art of the Digital Narrative, Posttraumatic Stress Disorder, Trauma, and History in Metal Gear Solid V, and A Cure for Toxic Masculinity: Male Bonding and Friendship in Final Fantasy XV as well as numerous articles.
We had a chance to talk with professor Green about her work, as well as her opinions on gaming culture today and video game development.
Zlatko: Hi Amy, thank you so much for making time for us and our questions regarding your work. Maybe the best topic to start our conversation is the one about digital storytelling, your main research interest. How would you explain briefly to our readers what is that exactly?
Amy: My initial academic background and my doctoral work are in literary study – I had what many would probably view as a "traditional" literary course of study. However, my love has always been for video games. For a very long time, I kept these two elements of my life separate. I came to realize that what I loved about literary study was the study of storytelling. I truly believe that storytelling – sharing and talking about and studying stories from all over the world – connects us all to our common humanity. So what I would say to your readers first and foremost is to experience all the stories you can – read them, watch them, and play them. I decided, a number of years back now, that I wanted to take the risk that came with moving my scholarly work into the narrative study of video games. That means that my primary interest in video game study lies in the stories games tell and how they function as important cultural artifacts meriting serious study.
Zlatko: Out of the three books you published, one of them has a much wider scope regarding the number of games you analyze and the way you operationalize and frame the field of digital narrative and digital storytelling.  Storytelling in Video Games: The Art of the Digital Narrative is published couple months after the book about Metal Gear Solid, but I presume that every scholar who starts with researching video-games, has that challenge in establishing what video games and digital narratives are before he/she starts with some case studies. So, my humble presumption is that this book was the first one you started to write about, even though it doesn't have to necessarily be the first topic your thought of when you were thinking about writing in video game studies. Maybe I am wrong. All in all, was that your motivation for the book about storytelling, to position yourself and your vision on the potential of video-games?
Amy: I wanted to add here the exciting news that I now have a fourth book out, Kingsglaive's Exploration of World War II, Cultural Trauma, and the Plight of Refugees: An Animated Film as Complex Narrative. This is not directly video game study, but it does relate to my overall work with Final Fantasy XV, as the film Kingsglaive is a narrative companion to the game. In terms of the two books, the reality is that I was working on Storytelling in Video Games first – it was the first one completed, but the publication time was longer. My writing of the Metal Gear Solid book overlapped with the last part of writing Storytelling in Video Games, but the time from final submission to publication happened more quickly. In terms of why I wanted to write Storytelling in Video Games, it came from my desire to express what I believe to be the most critical components of video game study. I deliberately focused on making the book accessible both to other academics in other disciplines and also the general public to help spark an interest in potential readers about video game study.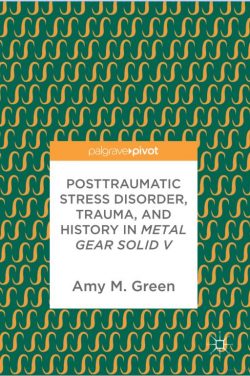 Zlatko: Besides Storytelling in Video Games, in which you use and analyze a plethora of video games, AAA titles and indie ones, older and more contemporary ones, other two books are focused on one, single game. The first book is about Post Traumatic Stress Disorder, Trauma, and History in Metal Gear Solid V. The second one is titled A Cure for Toxic Masculinity: Male Bonding and Friendship in Final Fantasy XV. What was the reasoning behind these two very contemporary and important topics, and in writing about them through these two popular titles? In other words, what came first, the academic interest in these topics or in MGS and FF?
Amy: I have played and loved many video games over the years and Storytelling in Video Games was a wonderful opportunity to consider many of these in one place. In terms of Metal Gear Solid V and Final Fantasy XV, these two particular games struck me for their powerful and relevant storytelling. In terms of the first part of the question, I would say that my scholarly process is this: I play a game and then my mind begins to focus on a research topic, something that was of interest to me. I believe that these two games are worthy of deep consideration. In terms of Metal Gear Solid V: Ground Zeroes and Phantom Pain, these two games together form a powerful post-9/11 treatise on the ubiquity of war, the suffering of the soldier, and lingering PTSD. The game provides relevant and deep political commentary about conflicts in the Middle East, centered in the game around Afghanistan of the 1980s, and then the game also brings in commentary on the impact of colonization of Africa, including the plight of child soldiers. It was a powerful, visceral story. Final Fantasy XV delved into timely waters with its exploration of masculinity and friendship between men. I'm sure we all hear a lot about "toxic masculinity" and this game presents a counter-thesis, that of men who are able to be friends and to express vulnerability.
Zlatko: While reading your books, it is evident that BioShock Infinite was a very important game for you. It changed a lot, regarding your career, and regarding how you see the potential of video-games beyond only technical aspect and mere fun. You mention it in your book about Toxic masculinity and Final Fantasy XV, but it has a much bigger role in Storytelling in Video Games. Can you explain briefly to our readers what is so inspiring in Bioshock: Infinite?
Amy: You are right that BioShock Infinite has, and will, always hold a special place for me. I continue to teach classes with BioShock Infinite as a focal point. For me, honestly, after I played this game, it was evident to me that I could no longer remain silent about the importance of storytelling in video games and that I needed to move my scholarship in this direction. The story this game tells is profound and heartbreaking. There are large issues, of course, in terms of the game's exploration of racism, American exceptionalism, and the dangers of religious extremism. Beyond that, though, the game tells the story of a young woman, Elizabeth, and the abuse she has suffered from those who should have protected her, but did not, starting with her father, Booker DeWitt, who sold her to Comstock. Her growth as a character, once she begins to realize what others have done to her, haunts me and it breaks my heart that she never got to Paris after all.
Zlatko: To be a specialist in Shakespeare and 19th Century American Literature like you are and to make that turn into gaming studies, it can seem like an impossible thing to do for some scholars. However, you pointed out how that knowledge in literature is quite complimentary, if not needed, to talk about digital narratives. Can you tell us something about your journey from something ''quite safe'' to something that is still on the margins in many disciplines? How did your colleagues and faculty react?
I was very fortunate in that my colleagues did not react negatively. Amy: Many of them do not play games and do not perhaps fully understand why this is important, but they are supportive and interested to learn more about what I do. I think that now, it isn't quite as much on the margins as it once was, but it still is to some extent. The major issue is that video game study remains fragmented on many campuses – game studies scholars are not grouped in a department. For example, I am an Associate Professor in English at UNLV, and there is another professor who works with games in terms of E-sports, and a history professor who does some work with video games. We aren't concentrated in one place. I think that for me, it really became an imperative that I had to do something that felt meaningful to me as a scholar. I love Shakespeare, but I also felt like I spent most of my time digging in the past. I wanted to be forward-looking to new iterations of storytelling and stories that reflect on the modern day.
Zlatko: How exactly did you deal with the topic of PTSD in MGS V? What our readers might expect from the book?
Amy: I hope that I did this subject justice. The game specifically deals with PTSD related to experiences in war, which is not something with which I have direct experience. That meant doing a great deal of research about the diagnosis of PTSD and how it has evolved with regards to how soldiers are treated. For example, during WWI, soldiers with what we would clearly deem to be PTSD were diagnosed as "shell shocked." They were usually sent back to the front lines after a stay in a mental asylum or hospital. Others, including General Patton, called soldiers who demonstrated signs of trauma "cowards." The history is really appalling and it has only been recently that soldiers have started to get the treatment they deserve and even then, speaking from my perspective in America, our system often fails veterans who need help. The book considers, then, how the main characters in the game including Punished Venom Snake, Quiet, and the child soldiers represent trauma and how the game's story depicts them working through – and suffering from – their trauma.
Zlatko: How do you implement discussions about video games in your lectures? Can you provide us with some examples, how do students react to learning about literature through video games?
Amy: I approach the discussion of video games in the same way I do discussions of literature. So for example, I use Final Fantasy XV as a required "text" in a couple of my classes. When we first begin discussing the game, I begin with a question/point of discussion that also tests whether or not they played the game carefully and looked for detail. I bring up a picture of the Genesis painting – it is visible in the training room at the start of the game – and ask students to consider its symbolism and the fact that they can view it right away. The painting gives away a great deal about the game's story, even if those pieces can't be tied together at that early point. I also start by asking them to consider the idea of a road trip and what that represents symbolically. I think that my students respond very positively – I tend to draw gamers to my courses, so they are thrilled to talk about games they love with depth and serious attention. Students who may not be gamers often find that talking about the stories in games informs their understanding of other materials in my courses.
Zlatko: What is your opinion on gaming studies today?  Are there any other books within the game studies sphere that you would like to recommend? What are the most seminal works in the field that any scholar should not miss out?
Amy: I think that the study of games has continued to evolve and I am thrilled to see many more titles that focus on close and careful study of narrative in games. I would say that McFarland's Studies in Gaming series offers some outstanding new scholarship and perspectives. The academic journal Games and Culture publishes some great shorter pieces.
Zlatko: What are your favorite games in 2019?
Amy: This is a difficult question! I've had a lot of favorites over this past year. I really enjoyed The Outer Worlds – that has a lot of great social commentary in it and has a great sarcastic wit running through it. Red Dead Redemption does an outstanding job of chronicling the end of Western expansion and the frontier as a part of that, the beginning of the end of the cowboy and outlaw figures in Western culture. I also loved Fire Emblem: Three Houses. This idea of students who live and study together for years, only to have to kill each other later, is haunting. These are just a few games, of course! I also spent a lot of time this year playing Final Fantasy XIV and Fallout 76 with my husband. These are special experiences in that he was never a gamer before and now he is! Fallout 76 was the first game we played together – we will probably come back to it at some point once some of the major narrative updates take place.
Zlatko: As you noted that you are a fan of Final Fantasy series, I must impose a question about the upcoming Final Fantasy VII Remake. THE Remake. What do you think how the narrative in this adaptation will change how we experience the original? Seeing that there are some scenes and topics are seen as controversial today more than they were 25 years ago (cross-dressing scene, death of a beloved character, certain gender and racial stereotypes etc.) do you think that this adaptation should change the original, do you expect them to be changed and what exactly?
Amy: This is a very good question – I am, unfortunately, a bit older than some of your readers might be, so I played the original game when it came out. It made an impact on me then that stayed with me. I think, personally, that we have to keep separate an original from its remake – they are not the same. The remake is an iteration of the original, but we cannot forget that it is not the original. Some elements we might like, some elements we might not like. That being said, I don't know that it will change our experience of the original. For some gamers, it might supplant the original. I would prefer to consider each as its own game, then perhaps consider comparisons and contrasts. In terms of things like the cross-dressing scene and the stereotypes, I certainly hope that these will be updated. I would hope that modern gamers would not be happy to see outdated – and hurtful – stereotypes perpetuated in the updated game. I think that in this regard, I have hopes that Barret's characterization might rely less on stereotypes and hyperbole. I also hope that the remake does – and I suspect it will – keep Aerith's death. I know that her death was shocking and painful for many players, but it has a clear narrative purpose. I don't think I would want to see this changed.
Zlatko:In the end, we would like to hear something about your future projects. What do you plan for 2020? Which game(s) will be your main interest this year?
Amy: Thank you for asking about this. I'm in the development stages of a project involving Far Cry: New Dawn and a project that would consider coop gameplay.  I want to explore a bit more what I've noticed about how my husband and I communicate within a gameplay environment and how this has been very positive.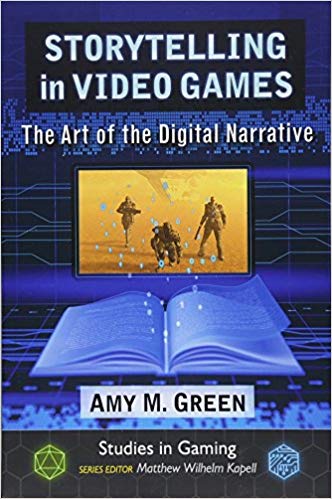 More about Dr. Green's books, and how to buy them:
A Cure for Toxic Masculinity: Male Bonding and Friendship in Final Fantasy XV
Posttraumatic Stress Disorder, Trauma, and History in Metal Gear Solid V
Storytelling in Video Games: The Art of the Digital Narrative (Studies in Gaming)