Uskoro bi trebala startati Doom multiplayer alpha, a svi koji su prije 26. svibnja 2014. godine kupili Wolfenstein: The New Order već se mogu prijaviti za sudjelovanje u istoj.
Naime, na službenoj stranici igre objavljen je post koji donosi prve detalje vezane za zatvorenu alphu, koja će biti dostupna isključivo na engleskom jeziku, dok će beta i puna igra imati i druge raspoložive jezike i titlove.
Iako još uvijek nije objavljen datum održavanja alphe, Bethesda je potvrdila sadržaj iste. Igračima će na raspolaganju biti jedna mapa (industrijski kompleks Heatwave) na kojoj će se održavati 6v6 deathmatch sukobi, zatim jedna demomnska forma (Revenant), Gauss Cannon Power Weapon te šest dodatnih tipova oružja (Vortex Rifle, Super Shotgun, Repeater, Rocket Launcher, Static Cannon i Plasma Rifle) te Personal Teleporter i Frag Granade.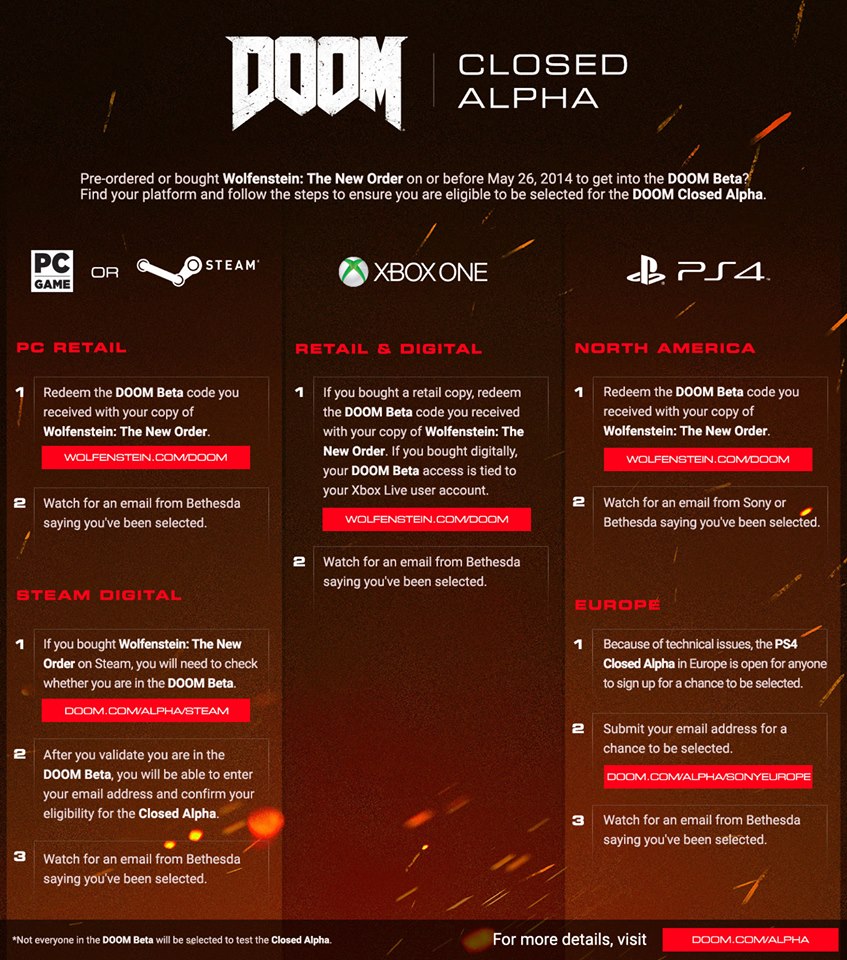 Za kraj, svi oni koji su kupili PS3 i Xbox 360 verzije Wolfenstein: The New Ordera, dobit će priliku sudjelovati u PS4, odnosno Xbox One alphi, naravno pod dodatnim uvjetom da imaju PS Plus ili Xbox Live Gold pretplatu. Više detalja o Doom alphi možemo  očekivati u danima koji su pred nama.