Naši prijatelji iz Poljske su nas obavijestili da je nedavno pokrenut novi servis u sklopu njihovog Go2Arena web-shopa s kojim smo već organizirali par nagradnih igara. Riječ je o Guild Areni koja vam omogućuje da zajedno sa svojim prijateljima ostvarujete popuste na webshopu. Način na koji to funkcionira je jednostavan. Svakom kupnjom bilo kojeg člana guilda svi članovi ostvaruju popust za odabrane kategorije (prilikom kreiranja guilda).
Više detalja donosi službeni press release:
Guild Arena – zajednica u kojoj se sve nagrađuje

Guild Arena je novo mjesto na internetu na kojem gameri uz intuitivno i user friendly sučelje kombiniraju mogućnosti socijalnih mreža zajedno s partnership programom koji im omogućuje da dođu do popusta za željene igre i ostale gaming stvarčice. Naš glavni cilj je da gamerima omogućimo sviježe i novo community iskustvo koje će im omogućiti druženje, istraživanje slićnih interesa zajedno sa svojim prijateljima te na taj način zarađuju experience i levelupaju svoje guildove. Kako smo i sami gameri naš fokus je uvijek bio na potrebama gamera i na koji način možemo proširiti zajednicu koju smo okupili i pružiti im sve popularne mogućnosti koje imaju vodeći gaming mediji. Upravo smo iz tog razloga dizajnirali posebno mjesto za guildove kao i sa sve freelance članove. 

Kako ste već pretpostavili, Guild Arena je integrirana u Go2Arena.com shop i na taj način daje našim članovima jednu veliku prednost, a to je da mogu igre već u startu kupovati povoljnije od "običnog" kupca. Svaka kupnja povećava guildov experience bar i daje vam nove perkove s još većim popustima. Naš tree sadržava 25 specijalnih perkova koje može skupiti svaki guild. Pravila su iznimno jednostavna, što više kupuje to više bodova ostvarujete.

Pa stoga upravo potičemo sve naše članove da se uključe u community gdje svaka kupnja na Go2Arena.com shopu donosi bodove i bonuse za Vaš guild.  Naglašavamo da svaki član ima pravo pristupa GuildShopu i na taj način može ostvariti kupnju eksluzivnih stvari poput posebnih izdanja igara, Blizzard odjevne predmete, razne gadgete i još štošta.  Guild Shop se konstantno nadopunjava s novih stvarima.

Obzirom da je Guild Arena potpuno novi projekt s vremenom će dolaziti do određenih projena. U bliskoj budućnosti želja nam je obogatiti ga s mogućnostima koje će poboljšati i pojednostaviti pozivanje novih guild membera, event kalendar, detaljnije informacije o igrama, integracija s raznim medijima i naravno širi spektar aktivnosti na našoj web stranici. Pa tako pozivamo sve gamere koji žele biti dio naše kreativne zajednice i imaju ideje kako možemo poboljšati ovaj novi koncept i samim time unaprijediti našu uslugu na način da svi mogu sudjelovati bolje i na zabavniji način.

I stoga, ako volite video igre, skupite svoju ekipu i pobliže ispitajte što Vam Guild Arena nudi. Guild Arena računa na Vas. 
Obzirom da imamo i neke strane čitatelje koji nas čitaju putem Google Translatea (svaka čast i sretno im bilo), nudimo i press relase na engleskom jeziku:
Guild Arena – A community where everything counts

Guild Arena is a new place for gamers that combines an intuitive and user friendly interface for online gaming communities and a partnership programme which gives them a whole lot of benefits. Our main aim is to provide gamers with a brand new community website where they can socialize, share interests with their friends and advance to new levels after creating a guild. Since we are gamers ourselves we wanted to focus mostly on the needs of expanding gamer communities and try to rekindle the very popular features of the biggest gaming websites. That's why we designed a personal space for guilds as well as for the non-attached members.

Guild Arena is connected to Go2arena.com store and this gives our members one big advantage – they can buy games cheaper than anyone else. Every purchase increases guild experience bar and gives new Perks with even bigger discounts. Our table consists of 25 special Perks that every guild can collect. The rules are simple – the more you buy, the more Points and discounts will be offered.

We want to strongly encourage our members to participate in a community where every purchase at Go2arena store isn't left unnoticed but leaves a visible sign and rewards member and his guild with additional Points. What's more, every member has a permanent access to the Guild Shop – a special place where earned Points can be exchanged for unique items related to favorite games, characters or factions. The Guild Shop catalogue is being constantly updated and consists of exceptional items like collector editions of games, Blizzard licensed clothes, gadgets and much more.

Since Guild Arena is a brand new project it has to undergo significant changes. In the nearest future we want to enrich it with features that will help our members recruit others, manage the calendar of events, seek information about games, use media channels and participate in many other activities included on our website. We want to reach out to gamers who would like to be a part of our creative community and wish to support us with some new ideas that will make our service more entertaining and social.

If you care about games, gather some friends and take a closer look at our community hub at http://www.go2arena.com/guild. Guild Arena is counting for you.

I zato, ako želite ostvariti popuste na Xbox Live Microsoft Pointse, Xbox On Demand igre, Steam i Origin igre uz posebne artikle usmjerene samo prema MMO ekipi, Guild Arena je sigurno mjesto gdje želite biti. GoodGame.hr je već kreirao svoj guild te ako želite zajedno s nama ostvarivati popuste ostavite nam mail u komentarima pa ćemo vam poslati invajt. 🙂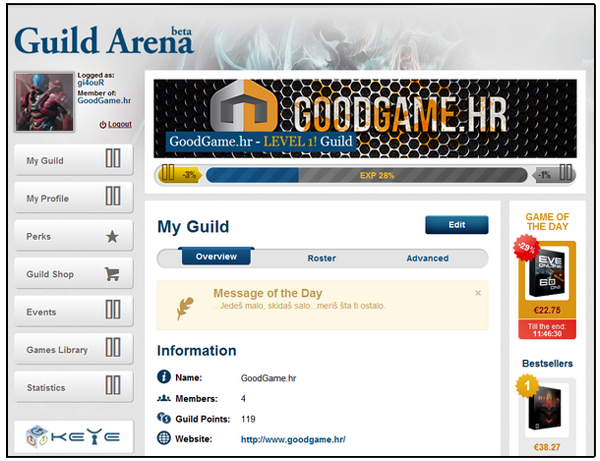 P.S.
Ekipa Go2Arena danas ima Insane Friday rasprodaju u kojoj sve u shopu režu za 10% pa tako za cca 240kn možete "ubosti" 4200 Microsoft Pointsa za vaš Xbox Live account ili Black Ops 2 (Steam) za isto toliko. Detalje potražite na njihovoj službenoj Facebook stranici.