Ukoliko ste ljubitelj Resident Evil serijala evo jedne dobre vijesti za vas. Capcom će uskoro izdati Biohazard 15th Anniversary Appreciation Pack na PSN-u. Paket će sadržavati Biohazard Director's Cut, Biohazard 2, Biohazard 3 Last Escape i Biohazard 4 igre i to po cijeni od 3000 yena ( 214 kn po aktualnom tečaju HNB-a). Ukoliko ćete kupovati svaku igru posebno tada će puna cijena iznositi 3700 yena  (264 kune – 50 kn je ušteda :)).
Bundle će biti dostupan u prodaji određeno vrijeme i to u razdoblju od 14. ožujka do 27. ožujka.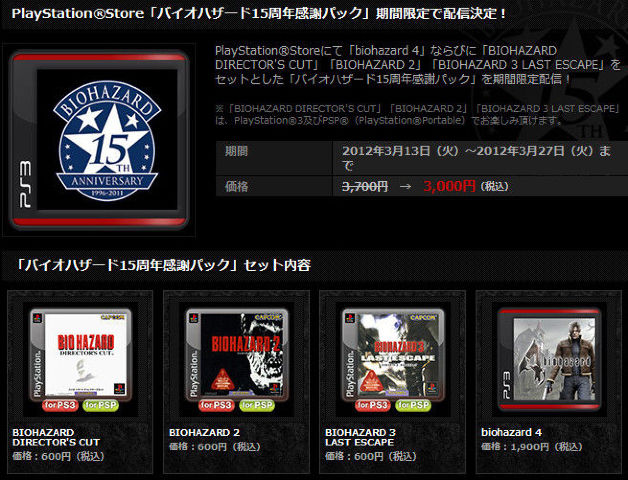 Također uz navedeni bundle 13. ožujka na PSN-u će izaći Biohazard Code: Veronica i Biohazard 4 igre. Cijena pojedine igre će biti 1900 yena (135.56 kn). Oba naslova izlaze za Xbox 360 Games on Demand po cijeni od 1360 Microsoft Pointsa. Nažalost, trenutno je nepoznato hoće li Biohazard 15th Anniversary Appreciation Pack izaći na europskome ili američkome PSN-u.
Izvor: Andriasang