Bethesda je već počela slati pozivnice za svoju E3 press konferenciju, a u sklopu te pozivinice našao se i interesantan šaroliki artwork, kojim je Bethesda na suptilan način odlučila otkriti što nas na njenoj E3 pressici očekuje.
Kao što možete vidjeti na slici ispod, artwork sadrži homage brojnih Bethesdinim IP-jevima, kao što su Prey, DOOM, Quake, Elder Scrolls, Fallout i Dishonored. Većina spomenutih IP-jeva sasvim sigurno će se naći na Bethesdinom E3 repertoaru, ono što je mnogima dodatno privuklo pozornost jesu dvije lokacije u Bethesdalandu (navedenom artworku) koje su trenutno "u izgradnji", što znači da se radi o projektima koji još nisu otkriveni ili najavljeni.
O kojim bi se projektima moglo raditi? Mislimo da imamo prilično jasan odgovor na to pitanje, no u isto vrijeme otvoreni smo i za poneko iznenađenje.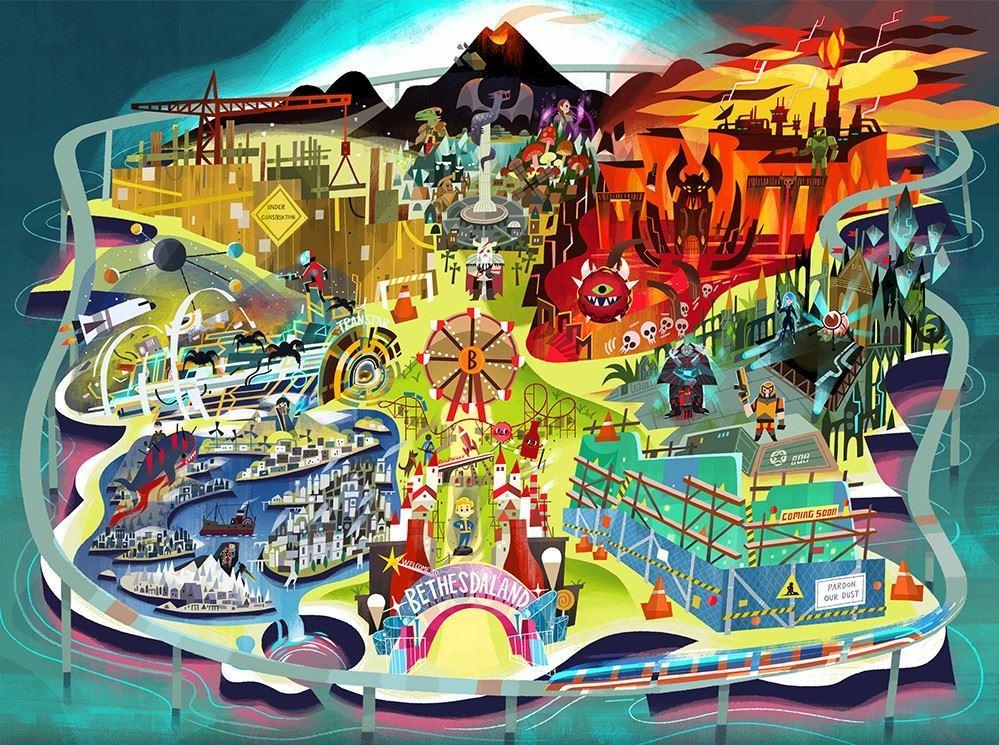 Naime, već neko vrijeme se šuška kako bi Bethesda već na E3 sajmu mogla najaviti nastavke igara The Evil Within i Wolfenstein, tako da smo nekih 75% sigurni da su dva prazna mjesta s artworka rezervirana za njih. Naravno, postoji šansa da Bethesda konačno najavi i dugo priželjkivani nastavak prošlogeneracijskog postapokaliptičnog hita Rage. U svakom slučaju, sve odgovore dobit ćemo sredinom lipnja.