PC igrači, nadamo se da ste proteklih mjeseci štedjeli novac, jer vrijeme je za veliku zimsku rasprodaju na Steamu.
Naime, jučer je službeno startao veliki Steam Winter Sale, koji nam donosi stotine i stotine sjajnih naslova po cijenama sniženim i do 95%. Pred nama su brojne akcije koje će većinom trajati od između 24 i 48 sati, a u kojima ćemo moći naći gotovo sve igre koje nam padnu na pamet.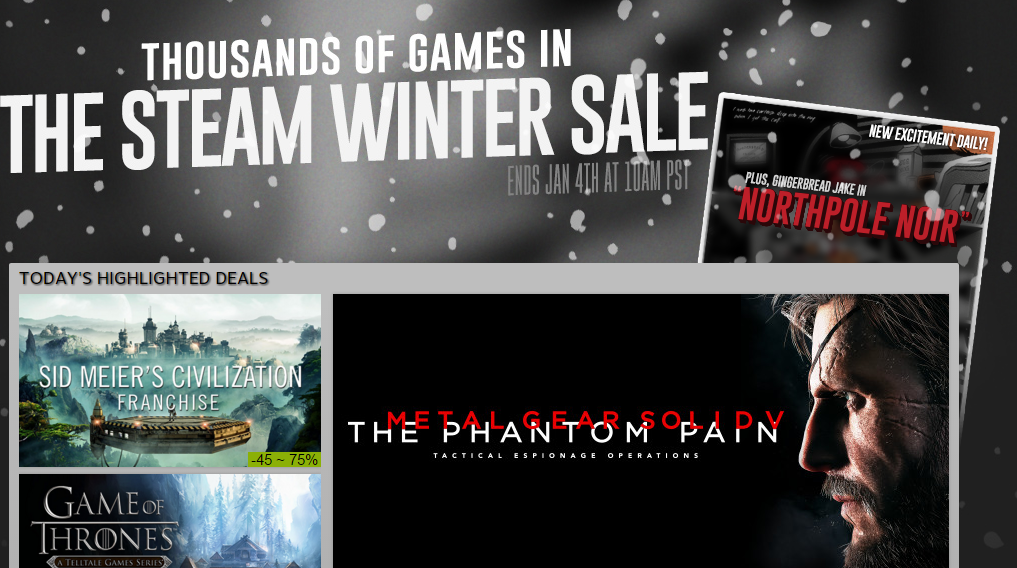 Tako na primjer, igre iz The Witcher serijala možete kupiti po cijenama nižim od 50 do 85%, The Elder Scrolls igre snižene za 60 – 75 %, a tu su i individualne hit igre poput Metal Gear Solid V: The Phantom Painea (snižen za 33%), GTA V (uz 40% sniženja), ili recimo Mad Maxa, Dying Lighta ili kompletne sezone Telltaleovog Game of Thrones serijala, čije su cijene niže za čak 66%. Također, ne treba zaboraviti i Steam Trading Cards, koje možete dobiti za browsanje kroz brojne Discovery Queuee.
Steam Winter Sale traje do 4. siječnja, a budući da nas svaki dan očekuju brojna iznenađenja, savjetujemo vas da pametno trošite svoje pare (kojih, naravno, nikad nema dovoljno kad su slična sniženja na snazi).