U susret izlasku igre Wolfenstein II: The New Colossus, Bethesda i MachineGames odlučili su izdati posebnu kolekciju sastavljenu od dvije možda i najinteresantnije pucačine generacije, namijenjenu onima koju su ih eventualno propustili odigrati.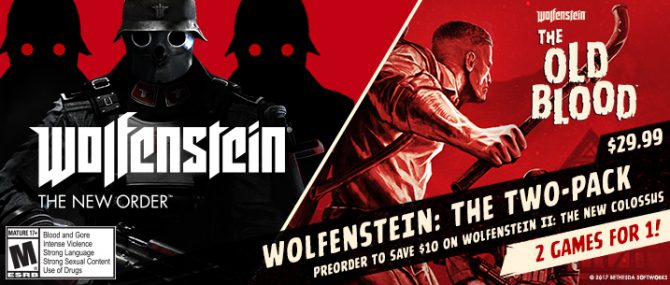 Naime, već krajem idućeg mjeseca u prodaji će se pojaviti Wolfenstein: The Two-Pack – posebna kolekcija koja se sastoji od Wolfenstein: The New Order i Wolfenstein: The Old Blood igara kao i popusta u iznosu od $10 za kupovinu igre Wolfenstein: The New Colossus, koja će 27. listopada izaći u verzijama za PS4, Xbox One i PC.
Ova kolecija na PS4, Xbox One i PC stiže 22. kolovoza, koštat će $29.99 te je za sada potvrđena isključivo za sjevernoameričko tržište, a hoćemo li je vidjeti i u Europi, zasada nije poznato.