Kako su svi tijekom cijele 2012 godine pa i ptice na grani već nagađale i špekulirale da je samo pitanje vremena kada će Valve napraviti konzolu ili nešto što opako podsjeća na konzolu, e pa drage curice i dječaci to vrijeme je došlo sada. Ultra mini PC koji nosi codename "Piston" a od većine gaming i tech medija prozvanim jednostavno "Steambox" nam dolazi već ove godine. Najava je odrađena na ovogodišnjem CES sajmu u Las Vegasu a sam razvoj je prepušten tvrtci Xi3 Corporation koja se prošle godine neuspjelom agresivnom marketinškom kampanjom putem Kicstartera ipak na kraju očito uspjela izboriti za investicije nekih poprilično zanimljivih tvrtki od kojih je Valve nama definitivno najzanimljiviji. Cijela ideja se vrtila oko toga da Xi3 Corporation jamči razvoj mikro računala koja imaju mogućnost nadogradnje i s performansama koje bi omogućile igranje modernih videoigara namjenjih PC publici.
Iako je velika većina sumnjala u izvedivost ovakvog projekta, a fail na Kickstarteru nije baš ulijevao preveliku nadu u sve na kraju (a tko zna u biti kako na kraju) investicije od raznih tvrtki su nas ipak donekle uvjerile da sve to nije "prodavanje magle". Iako je Valve dugo vremena kategorički poricao da radi na kućnoj konzoli sada se baš i ne mogu tako lako izvući. Naime, upravo je Valve najveći investitor u izradu nove serije X7a mikro računala iz Xi3 tvornica a zajedno sa nedavno uvedenim Big Screen modom i podrškom za gamepadove ovo zaista smrdi na konzolu. Kako smo spomenuli X7a kao očiti model za gaming, tako nas čeka i X3a koji će dobro doći za naše bake i dede da mogu saznati najnovije informacije s interneta umjesto da škicaju teletekst. Cijene su još nepoznate iako u kickstarter videu slabiji model košta oko 500$ što je hrpa love za kućnu razbibrigu, pogotovo kad se uzme u obzir cijena današnjih konzola. A koliko će ovo čudo biti moćno možemo provjeriti s trenutno (neslužbenim) dostupnim informacijama o hardveru kakav nas unutra očekuje:
Piston/Steambox hardware specs X3a (slabiji hardver) i X7a (jači hardver):
CPU – quad-core 64-bit, x86-based 32nm processor running at up to 3.2GHz (with 4MB of Level2 Cache).
GPU – integrated graphics processor containing up to 384 programmable graphics cores (or shaders).
RAM – 4GB-8GB of DDR3 RAM.
STORAGE – 64GB-1TB of internal solid-state SSD storage (with up to 12Gbps throughput speeds).
SUČELJA – Three display ports providing maximum resolution of 4096×2160 (including one DisplayPort v1.2 and * 2 Mini-DisplayPorts v1.2), Four eSATAp 3.0 ports, Four USB 3.0 ports, Four USB 2.0 ports, 1Gb Ethernet port, Three audio ports (1 input and 2 outputs: 1 copper and 1 optical).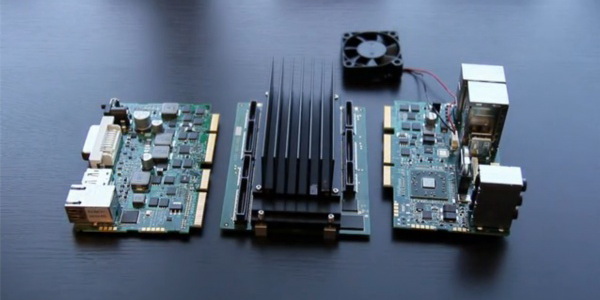 Tko je proizvođač CPU-a nije poznato, za GPU se nagađa da nas unutra očekuje AMD HD Radeon serije 7, hoće li biti Linux based sad kada Steam ima otvorenu betu Linux klijenta, hoće li biti Windowsi ili Mac OSX, a tko zna možda nam daju na volju da sami vrtimo što želimo. Ono što znamo jest da će Xi3 PC biti moguće nadograđivati no tu smo ograničeni na komponente isključivo iz Xi3 serije hardvera. Dok smo pisali ovaj tekst Xi3 i Valve su izdali zajedničko priopćenje o detaljnom predstavljanju tijekom tjedna X7a modela i njegovih mogućnosti od kojih izdvajaju službenu podršku za Steam i Big Picture mode što bi reklo da imamo službeno potvrdu da je Valve odlučio baciti svoje karte na naše dnevne boravke.
Press release prenosimo u cijelosti:
Xi3Corporation today announced a development stage system optimized for computer gameplay on large high-definition television monitors.

Housed in the uniquely shaped, grapefruit-size Xi3® Modular™ Computer chassis, this new development stage product is being showcased this week at the 2013 International CES trade show in Las Vegas, Nevada in booth #20425 in the Las Vegas Convention Center. Xi3's new development stage product is designed specifically to support both Steam® and its Big Picture™ mode for residential and LAN party computer gaming on larger high-def screens.

With more than 50 million subscribers around the world, Steam is the digital distribution, digital rights management, multiplayer and communications/community platform from Valve Corporation. Big Picture mode allows members to access and play games through Steam on any connected high-definition television display/monitor.

"Today marks the beginning of a new era for Xi3," said Jason A. Sullivan , founder, President and CEO of Xi3. "This new development stage product will allow users to take full-advantage of their large high-definition TV displays for an amazing computer game experience. As a result, this new system could provide access to thousands of gaming titles through an integrated system that exceeds the capabilities of leading game consoles, but can fit in the palm of your hand."

Xi3 also announced today it has received an investment from Valve Corporation. Xi3's new development stage computer game system is also being showcased in Valve's booth (#25730) at CES 2013. No additional details about Xi3's new system or Valve's investment in Xi3 will be released at this time.
Na kraju dana, sve će ovisiti po kojoj se cijeni ovo misli prodavati, a sigurni smo da će i velika trojka koja vlada našim dnevnim boravcima trenutno imati štogod za reći na ovu temu. 🙂