Nakon Batmana, još jedna igra dobit će ove godine svoje Game of the Year izdanje, a ta igra je Uncharted 3: Drake's Deception.
Naime, Sony je najavio Uncharted 3 Game of the Year izdanje, koje bi trebalo biti veoma bogato dodatnim sadržajem:
Classic Skins Pack 1-3: 25 multiplayer skinova, uključujući skinove Nathana Drakea iz prethodnih igara
Multiplayer Accessory Pack koji će sadržavati i Killzone 3 skinove i druge dodatke
Flashback Maps 1 i 2: osam remasteriranih mapa iz prethodne dvije Uncharted igre
Drake's Deception Map Pack: četiri nove multiplayer mape – Graveyeard, Old Quarter, London Streets i Oasis
The Fort Co-Op koji će se odvijati u tvrđavi iz  igre Uncharted: Drake's Fortune
Co-Op Shade Survival: Borba protiv Djinna (vatranih protivnika iz posljednjih poglavlja treće igre)
Doughnut Skin Pack: pet "fat" skinova
Rogues Skin Pack 1 i 2: Skinovi 14 protivnika.
Sadržaj koji je uključen u G.O.T.Y. izdanje igre bio je dostupan i kao dio Uncharted 3 Fortune Hunter's Cluba. Naughty Dog je nedavno izjavio da uprkos završetku Fortune Hunter's Cluba planira i dalje izdavati dodatni sadržaj za Uncharted 3.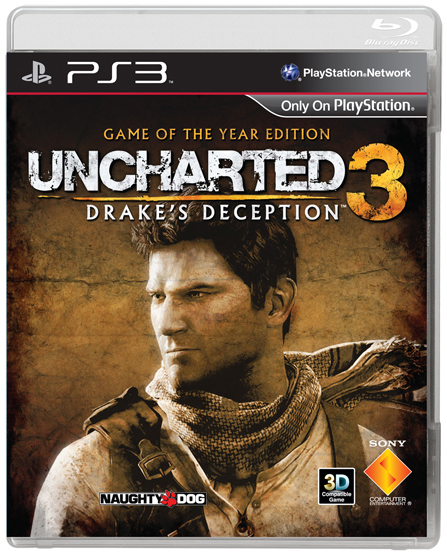 Još nije poznat datum izlaska, kao ni cijena ovoga izdanja, no prve glasine govore da bi se ono trebalo pojaviti tijekom ljeta.