Pored izleta u glazbene vode Rock Banda, do sada smo imali prilku družiti se sa kockastim varijantama legendarnog Indiane Jonesa, potom i Batmana, Star Warsa, Pirata sa Kariba i malenog čarobnjaka iz Hogwartsa. Na red je došla još jedna Lego igra, a u pitanju je i Tolkienov (ali i Jacksonov :)) Gospodar Prstenova.
Naime, na stranicama Shopto-a pojavile su se informacije o igri Lego Lord of the Rings, koje su ubrzo potom i uklonjene, no ostale su dovoljno dugo da vam možemo priložiti screenshot kao dokaz.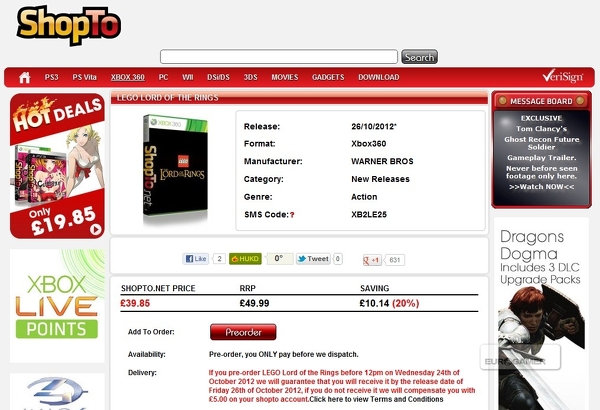 Ako je vjerovati prvim glasinama, igra bi se na tržištu trebala pojaviti usporedno sa novom linijom Lego kockica, koje će biti inspirirane filmovima Petera Jacksona, a koja bi trebala poslužiti kao još jedan način podizanja ionako ogromnog hypea koji prati izlazak prvog od dva predviđena Jacksonova filma, bazirana na Hobbitu. Iako još ništa nije službeno potvrđeno, velika najava i predstavljanje igre predviđeni su također za nadolazeći E3 sajam u Los Angelesu, koji počinje za nešto manje od mjesec dana.
Prema prvim informacijama, Lego Lord of the Rings bi se u trgovinama trebao pojaviti 26. lsitopada, najvjerojatnije u verzijama za Xbox360, PlayStation 3 i Wii.
IZVOR: Eurogamer