Ubisoft je objavio kompletnu listu pjesama koje će se naći u Rocksmith 2014 Editionu. Na objavljenoj listi pjesama nalazi se čak 55 pjesama, a spomenuta playlista je prilično šarolika. Naime, na listi se nalazi zaista široka lepeza rock hitova, među kojima se nalaze i neki aktuelni hitovi ali i brojne kultne "stvarčice".
Ubisoft je otkrio da će dosadašnji vlasnici Rocksmitha (koji se u prodaji pojavio 2012. godine) moći "produžiti" svoje glazbeno iskustvo s Rocksmith 2014 Editionom tako što će, uz simboličnu naknadu, moći "ubaciti" sve pjesme koje su se našle u originalnoj igri. Zašto igrači ipak trebaju platiti za nešto što već imaju? Odgovor je jednostavan – sve pjesme su dodatno obrađene i prilagođene svim novim featuresima (Automatic Tone Switching, Articulation, Timing i Instant Riff Repeater) koje donosi ovo novo izdanje. Svi dosadašnji Rocksmith DLC paketi bit će kompatibilni s Rocksmith 2014 Editionom, a što je također veoma važno, bit će i besplatni.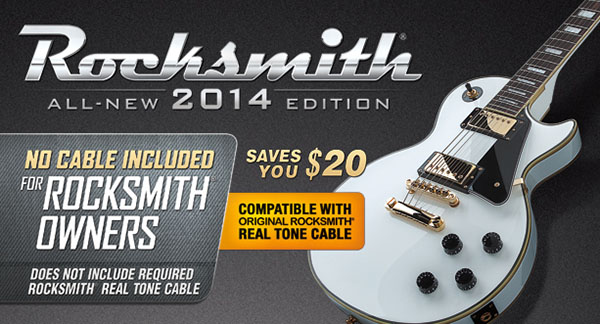 Donosimo vam listu svim pjesama koje Rocksmith 2014 Edition sadrži:
Aerosmith – Walk This Way
Alice Cooper – No More Mr. Nice Guy
Alice In Chains – Stone
Arctic Monkeys – R U Mine?
Avenged Sevenfold – Bat Country
Bob Dylan – Knockin' On Heaven's Door
Boston – Peace Of Mind
Bush – Machinehead
B'z – ultra soul
Def Leppard – Pour Some Sugar On Me (2012)
Deftones – My Own Summer (Shove It)
Iron Maiden – The Trooper
EarlyRise – Wasteland
Fang Island – Chompers
Foo Fighters – Everlong
Gold Motel – Brand New Kind Of Blue
Green Day – X-Kid
Jack White – Sixteen Saltines
JAWS – Stay In
Joe Satriani – Satch Boogie
Kiss – Rock And Roll All Nite
La Sera – Love That's Gone
Magic Wands – Black Magic
Mastodon – Blood and Thunder
Minus The Bear – Cold Company
Monster Truck – Sweet Mountain River
Muse – Knights Of Cydonia
Nirvana – Heart Shaped Box
Oasis – Don't Look Back In Anger
Pantera – Cemetery Gates
Paramore – Now
PAWS – Sore Tummy
Queen – We Are The Champions
Radiohead – Paranoid Android
Ramones – Blitzkrieg Bop
Ratt – Round And Round
Red Fang – Wires
R.E.M. – Losing My Religion
Rise Against – Savior
Rush – The Spirit Of Radio
Screaming Females – Rotten Apple
Slayer – War Ensemble
Splashh – All I Wanna Do
System Of A Down – Hypnotize
Tak Matsumoto – Go Further
The Dear Hunter – Stuck On A Wire Out On A Fence
The Kinks – You Really Got Me
The Police – Every Breath You Take
The Rolling Stones – Paint It, Black
The Shins – For A Fool
The Smashing Pumpkins – The Chimera
The Who – My Generation
Tom Petty And The Heartbreakers – Mary Jane's Last Dance
Weezer – Say It Ain't So
White Zombie – Thunder Kiss '65
Rocksmith 2014 Edition izlazi 25. listopada, a za sada su potvrđene verzije za PlayStation 3, Xbox360 i PC.