Bliže se blagdani i vrijeme darivanja, a priliku da zaista sjajno prođete i kupite zaista poseban poklon po i više nego prihvatljivoj cijeni imamo zahvaljujući indie game retaileru Itch.io koji je na putem svoje stranice ponudio "A Good Bundle" – premium paket kolekciju koja se sastoji od čak 151 igre, koju je moguće kupiti po cijeni od $20.
Radi se o još jednom humanitarnom Bundleu, u kojem se nalaze indie igre kao što su Gone Home, Read Only Memories, Panoramical, Sokobond, A Good Snowman Is Hard To Build, Catlateral Damage i Proteus.
Sve igre iz ovog paketa su DRM-free i sadrže podršku za nadogradnje i patcheve, a novac od prodaje ovog paketa, baš kao što je slučaj s Humble Bundle kolekcijama, ide u humanitarne svrhe – u ovom slučaju, profit od prodaje ove kolekcije bit će ravnopravno podijeljen između ACLU (American Civil Liberties Uniona) i Planned Parenthooda.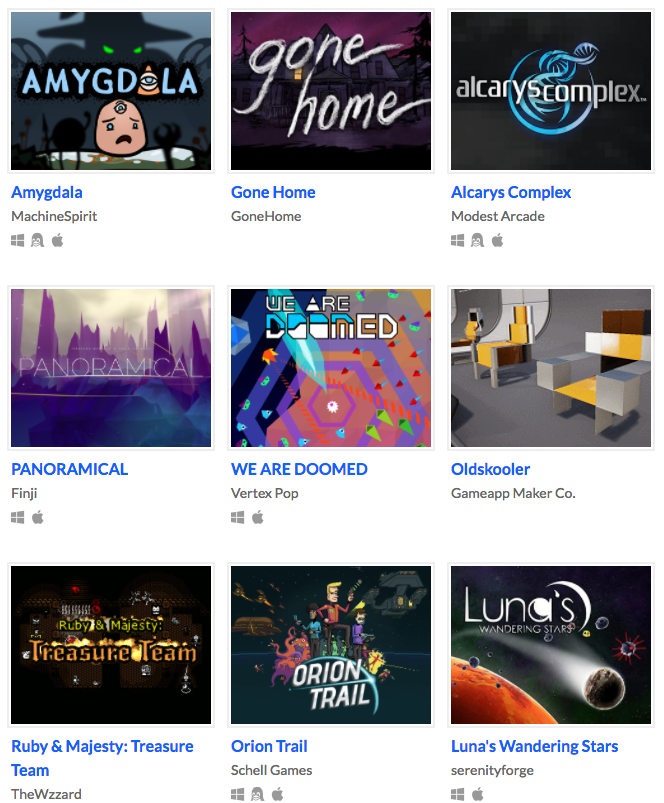 Za one kojima je $20 previše, u ponudi su i jeftiniji paketi – onaj od $2 koji sadrži 89 igara, odnosno onaj od $8, u kojem se nalazi 125 igara.
A Good Bundle bit će moguće kupiti sve do 29. studenog, a koje se sve igre nalaze u njemu, pogledajte ispod.
A Good Bundle za $2 donosi vam sljedeće igre:
Space Crew EP
Larua Font
Longest Night
TCG Proxy Generator
Bullet Hell Onslaught of the Mean-Spirited Ancient Deities
Space Odyssey
RotoDefendo
Takishawa is Dead!
Moody
Thrunt
The Temple of No
Those times.
Booster Pack Generator
Dfragmente
Resist EP
Musclebound Glory
Strafe Speed Zone V2
Dr. Langeskov, The Tiger, and the Terrible Cursed Emerald: A Whirlwind Heist
rain
Aftertile
Little Party
A nice break
Flight Sim
Raik
Krnch
North
Sodzen
This is Fine
Momentum
Monkey Pop
francis
Steal My Artificial Heart
Tenebris
Your Darkest Thoughts
a difficult day
An Evening of Modern Dance
MangoMan
Secrets Agent
Even in Arcadia, There I Am
Marshall Avatar Generator
Bloom Cave
Mediterranean Voidland
Grampy Katz in: The Big Date
Alien Construction Skills,
Didgerido
Star Kite
Cute Crate!
Find Me a Good One
The Easter Money
Slam City Oracles
Loco Motion
In the Court of the Yellow King
Your Gay Monster Family
Terminal Town
Doodle Defense
Combat Genetics
Fish Kermesse
The Four Old Gods
The Old Man Club
Amity x Li
Trackoons
Lily Seed
Sand and Stars
Spherakill
The Tops Don't Sting You!
A(s)century
VIDEOGOAME
Ghostkeeper
Gat Life: Boyfriend Bar
Are You With Us?
Noise Snke
Snugglebat
Colored Sandles
Ioneers
Space Brothel
Blue
1234567890
2
Intimate Codex
Farewell, Brother
The Willow Effect: Prologue by Al Wyvern
BUY2BILLIONFOLLOWE
Desert Dreamer
Lost Constellation
Capsule
Closer
Loving Life
Nuclear Reaction
Depression Quest.
A Good Bundle od $8, pored svih gore navedenih igara, sadrži i sljedeće:
NE_01
Blitz Breaker
Metamorphabet
Monster Pub – Trivia Night
One Show Only
Subterrarium
Farbenspiel
Salvage Solitude 8140
Hero Generations
beads of orange glass
Neocolonialism
Earthtongue
CGOL
Heather's Halloween Horror
HEARtREAD
FJORDS
Go Team Yeah
Crystal Control II
SYZYGY
Go Long!
Arms of Telos
Gurgamoth
Fragile Soft Machines
Expand
Death Ray Manta SE
Social Justice Warriors
SNP2015
Lieve Oma
Mass Warfare
A Good Gardener
Windosill
Judgement Arena
Get Off, Cat!
Bhaloidam
Downhill* Chapter One
Strawberry Cubes.
Oni koji se ipak odluče za kupovinu Premium Paketa od $20, dobit će još i ove igre:
Astaeria
Born the Birb
Proteus
Particle Mace
Sokobond
Curtain
Killing Time at Lightspeed
Four Sided Fantasy
Catlateral Damage
PreDigital
CRTify
illustrious
Amygdala
Gone Home
Alcarys Complex
PANORAMICAL
WE ARE DOOME
Oldskooler
Ruby & Majesty: Treasure Team
Orion Trail
Luna's Wandering Stars
A Good Snowman is Hard to Build
The Novelist
No Pineapple Left Behind
Catacomb Kids (Alpha!)
Read Only Memories.