Već dugo nemamo nekih zanimljivih informacija vezanih za Injustice 2, no ovaj mjesec bi svakako to trebao promijeniti. Ed Boon je nedavno već najavio velike novosti i dolazak informacija, a sada smo dobili potvrdu i sa službenog Twitter profila igre, kao i PlayStationovog Twitter profila . Uz dva nova GIFa, u kojima Superman (opet) proživljava tragediju i drugi koji obilježava dolazak Supergirl i najavljivanja nove prijetnje univerzumu izašla je i leakana slika o dolasku Darkseida, slavnog zločinca iz DC stripova.
The Lines Are Redrawn.
Find out more 01.17.2017 #Injustice2 pic.twitter.com/bG4DX2wtye

— Injustice2 (@InjusticeGame) January 13, 2017
A new threat approaches… stay tuned to https://t.co/6rfZPfginF on January 17 for more Injustice 2. pic.twitter.com/1CcrY46Kpz

— PlayStation (@PlayStation) January 13, 2017
Prema postu na NeoGAFu, slikan je pre-order bonus za Injustice 2 koji sadrži i bonus lika, navedenoga Darkseida. Slična stvar se dogodila i sa Mortal Kombatom X koji je na isti način "poklanjao" Goroa, pa su mnogi uvjereni da se radi o nečemu što će uskoro biti službena vijest.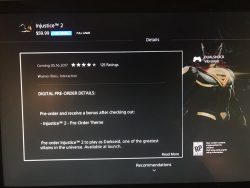 17.siječnja bi svakako trebali znati više o samoj priči, kao i o likovima i potvrdu datumu izlaska koja je zasada zakazana za 16.svibnja. Do tada se možemo zabavljati sa špekulacijama, željama za roster i nagađati što će sve NetherRealm Studios dodatno naplatiti.