Nakon što se krajem prošle godine pojavila na Windows Storeu, PC verzija Capcomovog hita Dead Rising 4 napokon je stigla i na Steam.
Ovo ostvarenje već sada možete kupiti putem Steama po cijeni od $60, a osim standardnog izdanja igre, ono obuhvaća i nekolicinu dodataka naknadno izašlih za igru, poput My Bloody Valentine updatea koji je u igru donio Hard i Blackest Friday razine težine, a tu je i Street Fighter Costume Pack.
Za sve one kojima sve to nije dovoljno, postoji opcija kupovine Dead Rising 4 DLC passa, koji košta $20, a koji još obuhvaća već izašli Stocking Stuffer Holiday Pack i nadolazeće Frank Rising i Super Ultra Dead Rising 4: Mini Golf ekspanzije.
Ukoliko još niste zaigrali Dead Rising 4 jer ste čekali da se isti pojavi na Steamu, bacite pogled na hardverske specifikacije potrebne za njegovo igranje.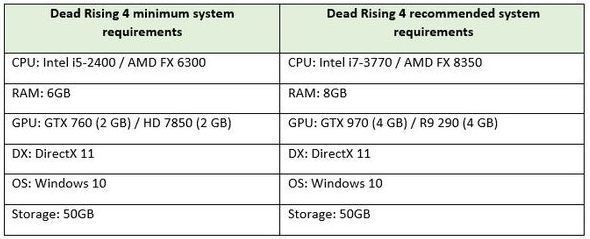 Iako je Dead Rising 4 Xbox Play Anywhere naslov, to u slučaju Steam verzije igre neće vrijediti, tako da ćete ipak morati posegnuti za kupovinom ili Xbox One ili Windows 10 verzije igre ukoliko u potpunosti želite iskoristiti beneficije koje ovaj Microsoftov program nudi.