Ako je vjerovati jutrošnjem leaku, fanovi Rockstarovog Bullyja uskoro bi mogli doći na svoje, jer izgleda da Rockstar punom parom radi na nastavku igre.
Naime, jutros je na Game Informeru, potpuno iznenada, osvanula arhivska stranica za igru Bully 2: Kevin's Back Jack, koja bi na PlayStation 4 trebala stići već ove jeseni. Ovu informaciju primjetila je ekipa iz DualShockersa, koja je brže-bolje napravila i printscreen iste, a koji možete i vidjeti ispod.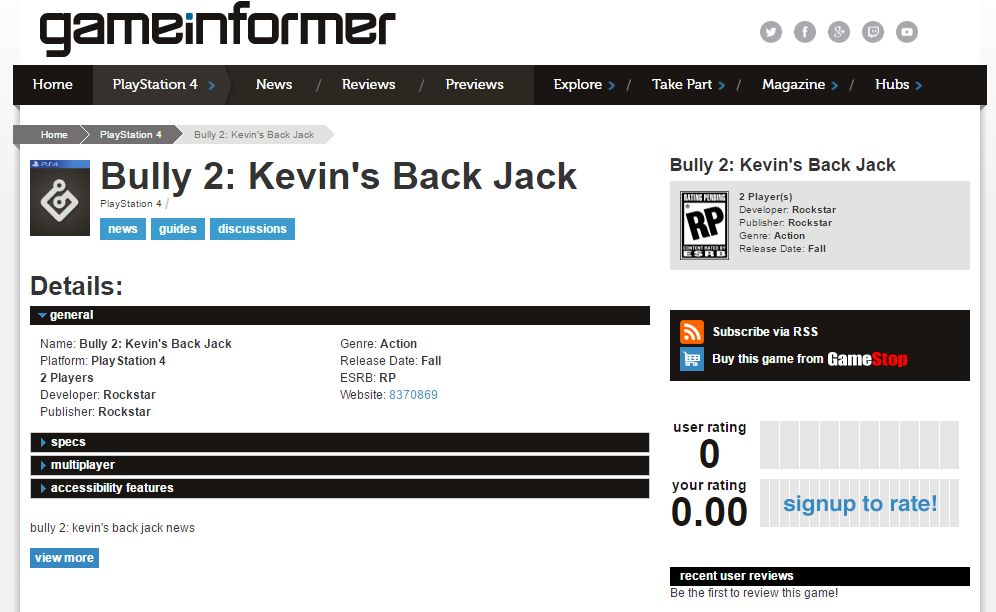 Ubrzo nakon leaka, oglasili su se i iz Game Informera, objavivši putem Twittera kako se radi o pogrešci te da ništa ne znaju o igri.
You might be seeing reports we have reported Bully 2 exists. This is in error. We have not heard anything about a sequel to Bully.

— Game Informer (@gameinformer) June 8, 2017
Naravno, njihov demantij svakako treba uzeti s dobrom dozom rezerve, jer nekako nam se čini da su objavljene informacije ipak malo previše konkretne, a kada k tome još dodamo i veoma bliske veze Game Informera s GameStopom, više smo skloni vjerovanju da se ipak radi o pravoj stvari a odgovor na sve naše nedoumice možda nas dočeka već na nadolazećem E3 sajmu.