Prva rana gameplay demonstraccija Ubisoftove dugoočekivane igre Beyond Good and Evil 2 naišla je na iznimno pozitivne reakcije cjelokupne gaming javnosti, uvjerivši nas da su Michel Ancel i Ubisoft Montpellier na pravom putu da stvore još jedan kultni megahit, ma koliko dugo morali čekati na njega. No, kako stvari stoje, rad na igri odvija se punom parom, a nove informacije stižu gotovo svakodnevno, uglavnom zahvaljujući glavnom čovjeku, Michelu Ancelu, koji je na Instagramu uobičajeno vrlo darežljiv kada su u pitanju novi detalji o igri.
Naime, u svom posljednjem postu na Instagramu, Ancel je predstavio još jednog živopisnog lika koji nas očekuje u igri, a u pitanju je Tiger, čiju sliku možete vidjeti ispod.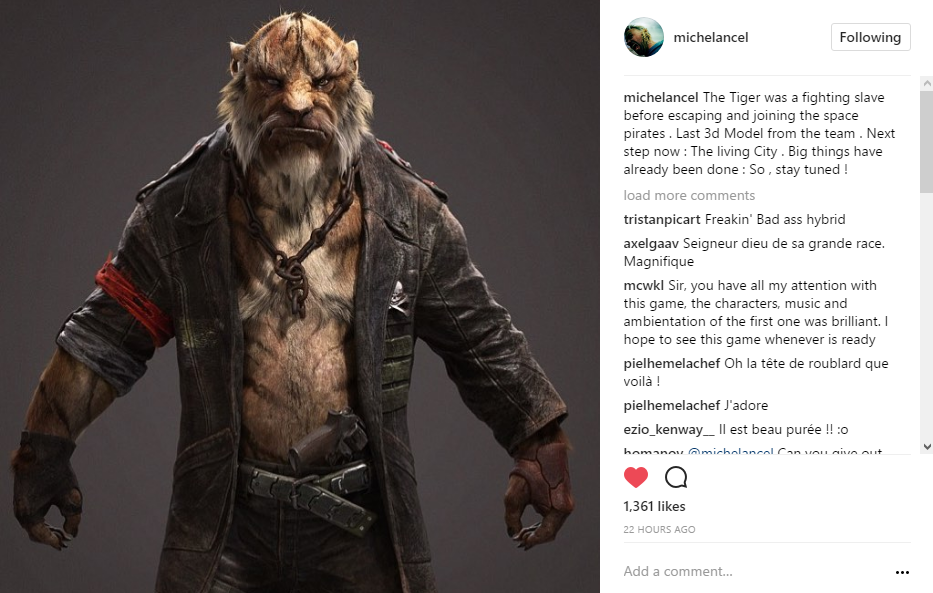 Baš kao i većina hibridnih stvorenja, i Tiger je bio rob koji se nakon borbe za slobodu i bijega pridružio svemirskim piratima. Iako neće biti igriv, Tiger će biti još jedan član posade glavnog protagonista/ice, a vjerujemo kako ćemo u periodu koji je pred nama o njemu doznati više detalja.
Nakon što je predstavio Tigera, Ancel je već najavio nove informacija – uskoro nas očekuje predstavljanje prvog grada u igri, no još nije precizirano kada nove detalje možemo očekivati.
Beyond Good and Evil 2 je u ranom razvojnom stadiju. Prema trenutnim neslužbenim informacijama, u razvoju je za PS4, Xbox One i PC, a u prodaji ga nećemo vidjeti tako brzo.