Mafia III je nedavno dobila datum izlaska. Više o njoj očekuje nas na nadolazećem E3 sajmu koji počinje za desetak dana, a dok čekamo na novi konkretniji gameplay materijal i informacije, 2K Games nas je odlučio upoznati s kolekcionarskim izdanjem igre i njenim premium sadržajem.
Naime, 2K Games je otkrio da će paralelno s izlaskom standardnog izdanja igre u prodaji biti dostupno i kolekcionarsko izdanje, koje će koštati $149.99, a u kojem će se naći hrpa dodatnog sadržaja, kako digitalnog tako i onog (kolekcionarima mnogo dražeg) fizičkog.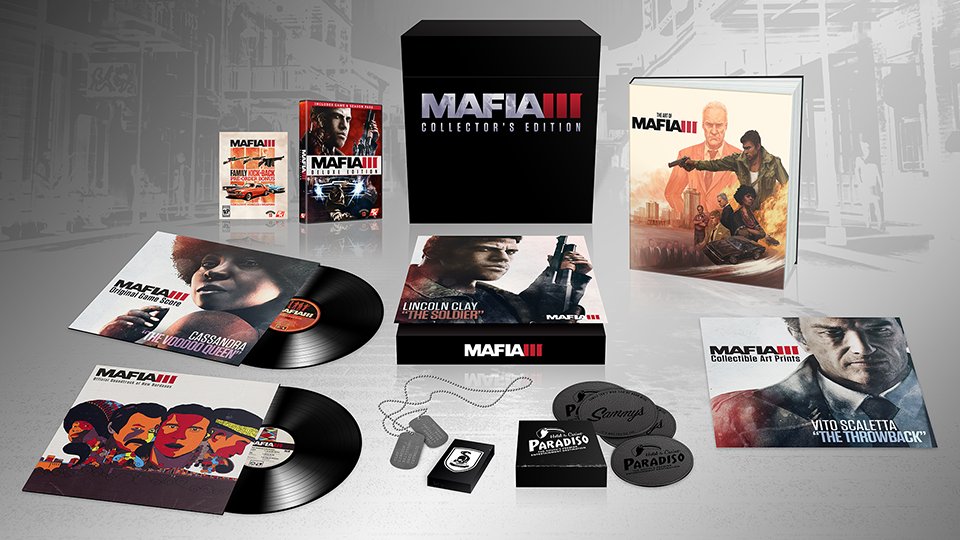 Mafia III Collector's Edition će se tako satojati od igre i Season Passa za nju (koji je također dostupan uz Deluxe Edition, koji će se prodavati po cijeni od $80), a tu su i drugi zanimljivi pokloni poput dog tagova Lincolna Claya, artbooka na 56 stranica, kožnih podmetača za čaše te posebnog weapons packa. Tu su i litografije inspirirane Playboyem iz perioda šezdesetih, koje će igrači moći pronaći kroz igru.
Naravno, čak ni to nije sve, jer među fizičkim bonusima ovog kolekcionarskog izdanja naći će se i dvije LP kolekcije, na kojima će se naći samo djelić sjajnog soundtracka i licencirane glazbe, među kojom nas očekuju sljedeći all-time hitovi:
Strana A:
1) "Black Ghost Blues"
Performed by Lightnin' Hopkins
2) "Paint It, Black"
Performed by The Rolling Stones
3) "Tramp"
Performed by Otis Redding & Carla Thomas
4) "I Got My Mojo Working"
Performed By The Shadows of Knight
5) "Walking The Dog"
Performed by Rufus Thomas
6) "All Along The Watchtower"
Performed by Jimi Hendrix
Strana B:
7) "Chain Gang"
Performed by Sam Cooke
8) "I Let A Good Thing Go By"
Performed by Dewey Edwards
9) "Go Go Shoes"
Performed by Lonnie Youngblood
10) "Slip Away"
Performed by Clarence Carter
11) "The House Of The Rising Sun"
Performed by The Animals
Mafia III u prodaju stiže 7. listopada, a pojavit će se u verzijama za PS4, Xbox One i PC.